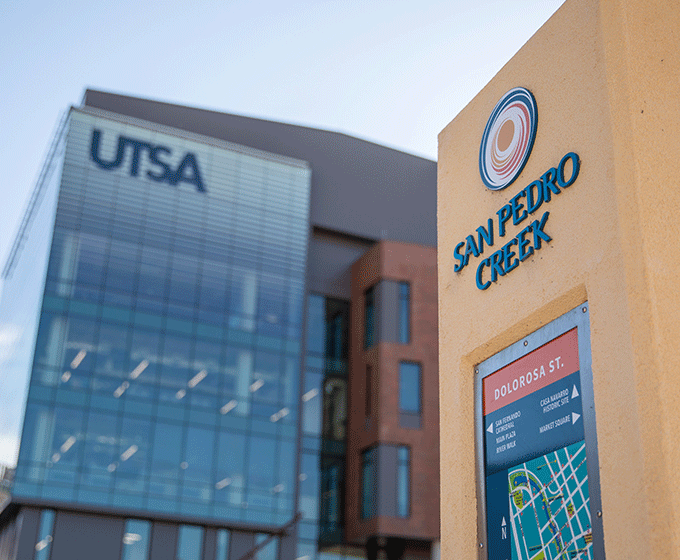 JANUARY 30, 2023 — The UTSA Department of Public Safety recently forged a new partnership with Centro San Antonio to enhance the wide range of services and resources that support a safe, clean and welcoming campus experience.
Through the partnership, Centro will provide trained ambassadors to conduct daily patrols and offer safety escorts on and around the university's Downtown and Southwest Campuses, including San Pedro I, which opened earlier this month along San Pedro Creek, and the construction site of the San Pedro II building. Centro will also provide regular cleaning services for these urban facilities.
This partnership marks the latest addition to UTSA public safety's resources for the campus community. The UTSA Department of Public Safety will continue to concurrently provide on-demand safety escorts by UTSAPD officers, security guards and Rowdy Watch student employees. Additional support includes 24-hour campus patrols, on-campus vehicle assistance and over 130 blue light emergency telephones across all campuses, providing a direct connection to UTSAPD dispatch.
Members of the university community can also access the LiveSafe app, which crowdsources safety and security notices, messages UTSAPD dispatchers in an emergency and offers a SafeWalk feature enabling family members and friends to track their loved ones as they walk across campus.
"UTSA and Centro San Antonio recognize the impactful role of our university in the downtown San Antonio area. We are committed to keeping our facilities safe and clean and providing a welcoming and engaging experience for the San Antonio community," said UTSA Chief of Police Stephanie Schoenborn. "We are very excited to partner with Centro to provide these important resources to our campuses."
Beginning this semester, Centro ambassadors will patrol walking paths, parking lots and the perimeters of the university's downtown locations in the mornings and evenings. Working in teams of two, the ambassadors are travelling between campuses on bicycles and reporting incidents and unlawful practices to UTSA Public Safety. The teams are trained in local laws and ordinances to improve safety while discouraging illegal or uncivil behavior.
Additionally, Centro teams will provide support to the individuals they encounter while on patrol who may be experiencing homelessness or who are in crisis. Centro ambassadors will offer information and assistance, directing individuals in need to community resources such as shelter, housing and referral services.
"UTSA and Centro have a shared vision for downtown San Antonio," said Chief Financial Officer and Senior Vice President for Business Affairs Veronica Salazar. "The synergy between Centro's efforts to create a more beautiful, welcoming, playful and prosperous downtown and UTSA's vision to expand business education, career engagement and art education in the downtown area is poised to create a meaningful impact for our community."