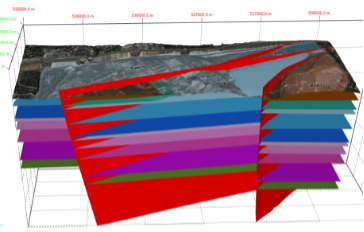 This 3D model of the subsurface of the UTSA Main Campus looking north (5x vertical exaggeration) was developed in MOVE. 
It provides visualization and modeling techniques to determine rock stress directions associated with the development of faults. It also includes a complete structural modeling and analysis toolkit with features to help geologists better reduce risk in their structural models. UTSA's license will last until December 2023 but can be renewed for an additional 12 months each subsequent year upon request and at the discretion of Petroleum Experts.
Matt Cannon, an assistant professor of instruction in the Department of Earth and Planetary Sciences, teaches UTSA undergraduate and graduate students who will benefit from using MOVE in their research and studies. Cannon is leading an upcoming geology field camp with 11 undergraduate geology students that begins today and will last for four to six weeks in New Mexico and Montana.
During the first half of the camp, students will collect field data to make geologic maps and cross-sections, which show how geologic features are layered on a vertical plane. In the second half, students will utilize MOVE to perform structural analyses of their cross-sections.
"MOVE from Petroleum Experts is the industry leader in structural analysis of tectonic deformation," said Cannon. "Our geology field camp students will use it to restore the geologic cross-sections they generate from field data they collect in Montana to an undeformed state. This allows them to determine the viability of their mapping and cross-section construction."
With this in-kind contribution from Petroleum Experts, the department will continue to advance student success and directly drive UTSA as a Tier One research university; providing high-caliber resources that can be used to advance research and discovery.
UTSA geology students are encouraged to develop innovative research projects for remote sensing and natural resources. These skills, paired with the experience students receive from using MOVE, make them more competitive job candidates in industries related to structural geology.