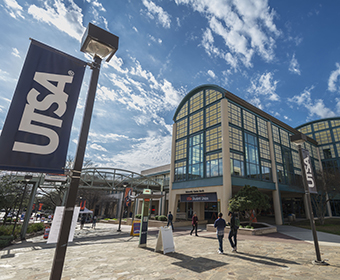 AUGUST 28, 2023 — Editor's note: The following message was sent today via email from Interim Provost and Senior Vice President for Academic Affairs Heather Shipley, Chief Enterprise Development Officer and Senior Vice President for Business Affairs Veronica Salazar and Chief of Staff and Senior Vice President for Institutional Strategic Planning, Compliance Risk Management and Office Operations Carlos Martinez to all faculty, staff and students.
In May, we shared an interim update regarding the status of Senate Bill 17 (Diversity, Equity, and Inclusion). This bill was an outcome of the 88th Legislative Session and was signed into law this summer. Over the past several months, we have awaited guidance from The University of Texas System, which we received late last week.
Before we share more, we want to acknowledge that this is a challenging matter to navigate. As a university, we are committed to adhering to our core values and supporting academic freedom while creating a strategy that aligns with UT System guidelines. Our students, faculty and staff remain our top priority, and we will ensure our efforts are guided by our deep commitment to the inclusiveness, collaboration, and well-being of all Roadrunners.
During the Board of Regents meeting last week, UT System distributed guidelines for all System institutions regarding compliance considerations for SB 17. With that guidance, President Taylor Eighmy formally asked that we develop an engagement strategy to review programs, activities and initiatives that may be impacted. As required by the new law, the strategy must bring all programming into compliance by January 1, 2024.
Anchored in UTSA's values of inclusivity and shared governance, President Eighmy asked that the engagement strategy be broad and transparent. The process we adopt will be managed by an executive leadership committee — led by us — which will receive and review the determinations of appointed working and advisory groups to formalize a plan. Recommendations from all groups will be shared with the executive leadership committee, and we will work closely with President Eighmy to develop and communicate necessary action steps.
Over the coming weeks, we will work to finalize the strategy framework and appoint members to three distinct advisory and working groups. Each group will have representatives from across the university, including academic units, student support units, and administrative/operational divisions. The Student Government Association, Staff Senate, Faculty Senate and university leadership will also be represented.
We want to assure you that once the reviews, recommendations and final decisions are made, we will take care of our Roadrunner community and assist in finding appropriate jobs for any impacted positions or individuals. That commitment also extends to all student-facing groups, programs and initiatives.
Finally, the disposition of the Office of Inclusive Excellence is a matter that will be led by the President's Office over the coming months. Further guidance is anticipated from UT System that will help shape that process. Please know that President Eighmy remains committed to ensuring that all members of the Office of Inclusive Excellence will have appropriate jobs. He is also committed to finding the best possible outcome for the Office in support of the university's mission while remaining compliant with the law.
As this process evolves, you can expect follow-up communication from our executive leadership committee. We thank you in advance for your patience as we work through the appropriate campus channels to ensure our university's compliance while maintaining our steadfast commitment to the core mission and values that make UTSA such an important and special community.