Visit our Campus
The best way to learn about UTSA is to experience it. Located in the nation's seventh-largest city, see what UTSA has to offer you.
Want To Apply?
UTSA has a streamlined application process, and our admissions counselors are ready to help!
Main Campus
With 104 buildings on 600 acres, the Main Campus houses the Business, Education and Human Development, Engineering, Liberal and Fine Arts, Sciences, and Honors Colleges. In 2019, the Large-Scale Testing Laboratory is scheduled to open for engineering students. The new Science and Engineering Building is scheduled for completion in 2020. Public-private partnerships are providing opportunities for new housing and retail along UTSA Boulevard.
1 UTSA Circle
San Antonio, TX 78249-3209
Phone: (210) 458-4011
Downtown Campus
2018 was a momentous year for the Downtown Campus, located west of IH-35, and for the city of San Antonio as plans were announced over the next ten years to add a School of Data Science, a School of Entrepreneurship. A National Security Collaboration Center, an Urban Education Institute, and an Urban Science Institute downtown in the heart of the city. Plans have also been announced for additional housing as UTSA works with the City of San Antonio and Bexar County to anchor a high technology corridor.
501 W. César E. Chávez Blvd.
San Antonio, TX 78207
Phone: (210) 458-4011 | Downtown Campus Initiative
Hemisfair Campus
At the Hemisfair Campus, the Institute of Texan Cultures hosts exhibits and live performances. Through its research, collections, exhibits and programs, the Institute promotes an understanding and appreciation of Texas and Texans.
801 E. César E. Chávez Blvd.
San Antonio, TX 78205-3209
Phone: (210) 458-2300 | Institute of Texan Cultures website
Park West Campus
The 125-acre Park West Campus, which sits less than two miles from the Main Campus, is home to a soccer field and a track-and-field-stadium. It serves Roadrunner athletes and is designated as a host site for community sporting events.
8000 North 1604 W.,
San Antonio, TX 78249
Phone: (210) 458-4056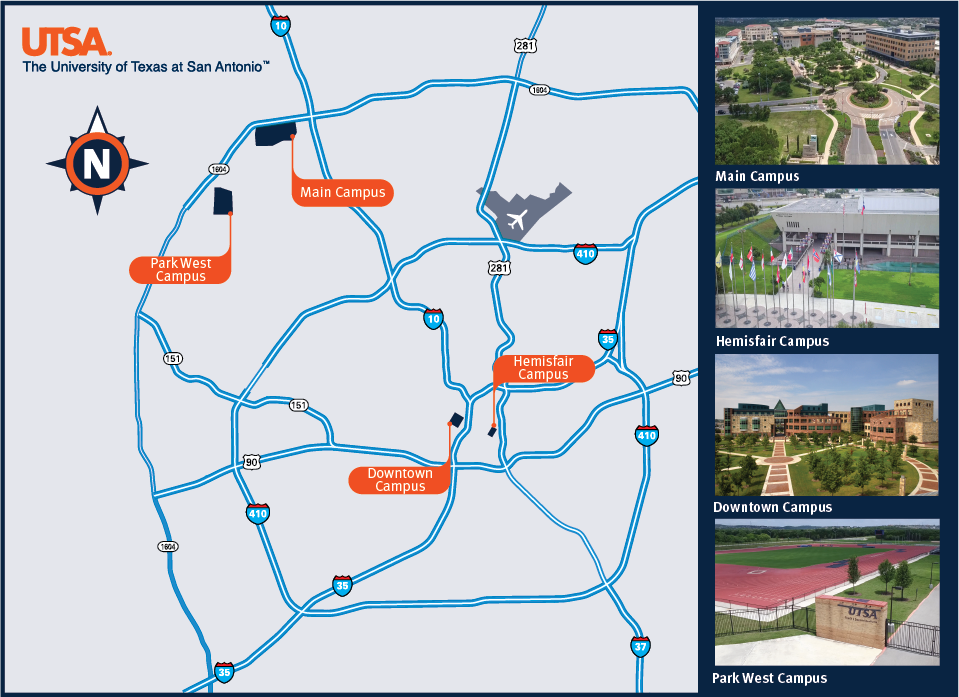 .