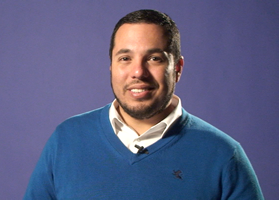 Eduardo Perez
---
Bilingual educator wants to serve as role model to young Latinos
---
Knoell sped through M.B.A. program in less than two years
Eduardo Perez earns master's degree after 13 years of teaching elementary school
Meet Eduardo Perez. As a bilingual educator, he has seen firsthand the need for Latino male role models in young Latinos' lives.
At 37-years-old, Eduardo already has a solid teaching career with 13 years of experience. But he knew that earning a Master's Degree in Bicultural-Bilingual Studies would create opportunities he wouldn't otherwise have.
Eduardo grew up in a small West Texas town where speaking Spanish was considered a liability rather than an asset. He honed his bilingual skills during his undergraduate studies when he traveled to Mexico and began learning more about his heritage. He will graduate with his Master's in Bicultural-Bilingual Studies this month.
In bilingual education, a field where women are more commonly found, Eduardo stands out as a hard worker and classroom community builder, said Patricia Sánchez, associate professor in the Department of Bicultural-Bilingual Studies.
"He is a strong voice for bilingualism and biculturalism and I have no doubt he will be a leader at his campus or other workplace in the future," Sánchez added.
Eduardo now teaches second grade at North East Independent School District, but hopes his Master's Degree in Bicultural-Bilingual Studies from the College of Education and Human Development will propel him to higher positions in the educational system. Eduardo says his professors have encouraged him to dream big.
"I can say I'm proud to be a Roadrunner because this university saw something in me," he said.
– Marissa Villa