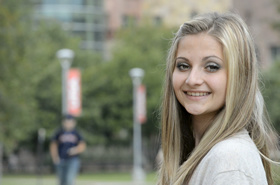 Charissa Munteanu
---
First-generation Honors College graduate looks to pursue a doctoral degree in chemistry
---
Meet Charissa Munteanu. The 21-year-old is earning a bachelor's degree in biochemistry and graduating with highest honors from the UTSA Honors College.
Munteanu's inner drive to succeed was planted long ago. She was born in Romania but came to the United States when her family moved to California to seek better opportunities. As a child, she saw her father go from working several part-time jobs to becoming a successful businessman in the mobile home construction industry in Sacramento.
Life was going well for the family until the housing market collapsed in 2008, when they lost all of their possessions and were forced to seek public assistance.
With a family of six to support, Munteanu's father took a job in the trucking industry and relocated the family to San Antonio, where the cost of living was much lower.
"As a 16-year-old, that situation completely changed me," said Munteanu. "I learned that you can't just look at the world and plan on succeeding without an education. It inspired me to hit the books really hard and try to give it my all."
Munteanu attended William Taft High School and finished in the top one percent of her class. As the first in her family to attend college, and with her outstanding grades, Munteanu was accepted into the UTSA Honors College. She alleviated some of her expenses with a Greehey Family Foundation Endowed Scholarship for First Generation Students.
She began college with dreams of becoming a medical doctor, but that pursuit changed when she took her first organic chemistry course with UTSA Professor Doug Frantz.
"I fell in love with organic chemistry, because it was challenging and rewarding," said Munteanu. "It's interesting and fascinating to be able to control a molecule to do what you want it to do in a particular setting."
She enjoyed Frantz's enthusiasm in the classroom so much that she went on to work in his laboratory. There, she developed new synthetic routes to form small molecules that can serve as building blocks for larger compounds with biological properties.
Munteanu plans to pursue a doctoral degree in chemistry at UTSA then work as a chemist in the pharmaceutical, food or cosmetics industry.
- Kris Rodriguez