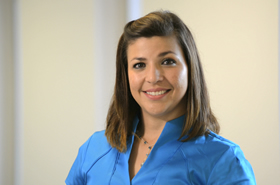 Evelyn Hlebik
---
From fighting in Iraq to fighting for her degree, Evelyn Hlebik will take the lessons she's learned to the classroom
---
Meet Evelyn Hlebik. When she graduated from high school, her grandmother made copies of her diploma, folded them into paper airplanes and made them fly.
She used the paper airplanes to tell her granddaughter that although a diploma was just a piece of paper, her dreams would fly with the gift nobody could ever take away from her – the education she had earned.
"My grandmother was a teacher for 35 years. She always put in me this sense of feeling that education is the most important thing in the world," Hlebik said.
As a soon-to-be elementary school teacher, Hlebik will instill the same lesson into the students whose lives she will change.
"The education I'm getting, what I'm earning here, nobody can ever take that away from you," she said.
But getting to where she is now took a lot of hard work and several difficult detours. A veteran of the U.S. Army, Hlebik served in Iraq as a medic at the height of Operation Iraqi Freedom.
The Puerto Rico native joined the Army as a way to help her family after they'd lost her father to cancer. As one of the oldest in her family, she knew she had to step up and take responsibility for her mother and younger siblings.
"When the pressure comes, you just have to tackle it," said Hlebik, a 35-year-old mother of three biological children and two stepchildren who still battles PTSD.
So when she decided to go to college in 2011, she did just that. She began at a community college as a single mother, telling her children that their mom would have to attend school just like they do. It was difficult, she said, but she pushed through and eventually transferred to UTSA. She will graduate with honors.
"I've been put in the most difficult situations that anyone could possibly experience in life, and I've survived," Hlebik said. "I can definitely help motivate my students to get through their obstacles."
- Marissa Villa