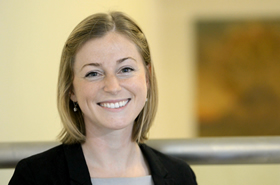 Jade Heverly-Campbell
---
Patient turned public health major has a passion for preventive medicine
---
Meet Jade Heverly-Campbell. The 27-year-old is eager to teach people about the power of preventive medicine.
In 2005, Heverly-Campbell walked with her high school graduating class. But she wasn't able to earn her diploma. A mysterious illness prevented her from completing her high school requirements.
Her symptoms included migrating pain, light sensitivity, brain fog, short-term memory loss and fatigue. On some occasions, the teen was restricted to bed rest. There were even days when she was confined to a wheelchair. It was so bad that one doctor told her to consider a future without college.
"I loved school. I was such an active kid," she recalled. "I was in dance classes, sports, orchestra…I loved music. But I had to drop those things one by one."
Eventually, Heverly-Campbell "just kind of accepted being the sickly kid, the one who tended to catch everything, the one with the mysterious pain and fatigue." It wasn't until an open-minded physician referred her to a specialist in Del Rio, Texas, that she was diagnosed with chronic Lyme disease.
Six years of intensive medical treatment ensued. Heverly-Campbell needed IV therapy, intramuscular shots, oral medications and other protocols. But she was determined to finish what she started; she wanted her high school diploma.
"Sometimes I was restricted to taking just one online class per semester, because that's all my stamina would allow me to do. Sometimes I studied from bed, sometimes from a clinic chair while I was receiving IV therapy. I went at the pace I was able to manage."
By the time she was well enough to attend school in person, she'd earned her high school diploma and was close to completing her associate degree.
College entered her mind. "Maybe it's not such a far off notion," she thought.
Monthly trips from Del Rio to the Alamo City's Whole Foods market introduced Heverly-Campbell to San Antonio—and to UTSA. She grew to love the city and enrolled at UTSA in 2011.
During her first year at UTSA she began working as a teaching assistant for microbiology professor Neal Guentzel and later as a research assistant for sociology professor Thankam Sunil. She became certified as an EMT-B, and she joined student organizations and took on leadership roles.
That confidence led her to work with a friend to start a chapter of Global Brigades. Through the service organization, pre-medical students, pre-dental students, doctors and dentists travel to underserved communities outside the U.S. In 2013, the UTSA chapter raised $8,000 to take medications, medical and dental supplies, medical equipment and three dozen students to Honduras. This year, the chapter raised close to $10,000 for its trip to Panama.
The service-minded student also helped UT Health Science Center students administer free physical exams to economically disadvantaged middle school students in Laredo who wanted to play school sports.
As an undergraduate, Heverly-Campbell conducted a series of research projects involving pain management, working with Sunil through the Institute for Health Disparities Research, and with Dr. Barbara Turner and Paula Winkler of the ReACH Center/AHEC Alliance at the UT Health Science Center.
"It's estimated that 100 people die each day of opioid drug overdoses related to chronic pain; it's a silent epidemic in the U.S.," she said. "Through the Alliance, we educated community members about alternatives to opioids, which are commonly used to manage chronic pain. We talked about exercise, cognitive behavioral therapy and acupuncture. We worked to reduce the stigma associated with chronic pain and to empower people to take an active role in their pain management."
Working with Dr. M. Rosina Finley of the UT Health Science Center's Department of Family and Community Medicine, Heverly-Campbell studied the effectiveness of an art and music enrichment program for senior citizens coping with chronic pain. Working with medical students and other pre-med students like herself, she found that such an intervention had the capacity to decrease the seniors' pain and depression levels while increasing their cognition in only five weeks.
Heverly-Campbell chronicled her research findings in a 60-page honors thesis. She also presented some of her findings at a national conference. She credits the UTSA Honors College and Health Professions Office for providing her with wonderful research opportunities.
"When I came here, I had the notion that research was restricted to the lab and limited to biology, chemistry and physics students," she said. Thanks to the guidance of Health Professions Office Director Alan Vince who encouraged her to explore public health as a potential pathway to medical school, she "realized that social scientists conduct research, too—often in the field through community-based participatory research and other methods—that can have a tangible effect on community health and public policy-making. I developed a love for it and I want to get a master's degree to pursue it further. That was a tremendous realization. The opportunities for research at UTSA have been really invaluable."
Culminating a journey 10 years in the making and with commencement in her sights, Heverly-Campbell is now set on earning her M.D. degree and her master's in public health. She is especially interested in public health policy, global health and infectious/tropical disease.
"I feel that preventive medicine is missing from the traditional medical school curriculum. And I think that until that curriculum is modified to include more of a public health-related focus, you really have to have the best of both to provide the best possible treatment and to understand the social and behavioral health determinants underlying someone's condition."
Heverly-Campbell hopes to use her experience to treat patients who have chronic illnesses with empathy.
"I hope to guide others in their journey back to wellness by giving them the hope to re-envision their own futures in vibrant shades of health rather than the grayscale of chronic illness. I want them to know that for treatable conditions, even if they can't see the end right now, they need to know that it exists."
- Christi Fish