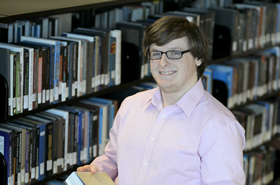 Jonathon James
---
Geography major overcomes personal hardships to earn his college degree
---
Meet Jonathon James. As one chapter draws to a close, another will open for the 24-year-old senior graduating in December with a bachelor's degree in geography.
James will be the second member of his family to earn a college degree this year. His mother earned her bachelor's degree in business management in May.
This spring, James will enroll among the first class of students in UTSA's new master's program in geography. His educational journey has not been an easy one though. James had to overcome several personal obstacles along the way.
As a child, James' mother divorced his abusive father and filed for bankruptcy, forcing the family to move in with his grandparents. With their assistance, James' mother was able to recover and support James and his brother, working as a contractor for the federal government.
Her tireless efforts inspired James to excel in his studies, and he graduated from high school as the salutatorian of his class in 2008.
A musical virtuoso on piano and percussion, James first pursued a music degree with a presidential scholarship he received from St. Mary's University. He thrived in his studies and made consecutive dean's lists. That all changed in his sophomore year when he found himself stricken with massive anxiety. James sought medical attention and was diagnosed with depression and clinical obsessive-compulsive disorder.
While prescription medications helped him refocus on his studies, a deeper depression returned when the grandfather who helped raise him passed away. The loss was too much to handle, and he eventually lost his scholarship.
After a summer off, James returned to college, enrolling at UTSA in fall 2012. He continued his musical studies but for the first time in his life found music unfulfilling. A change was needed.
After years spent honing his musical talents, James found himself craving more interaction with other students. He changed his major to geography, one of his favorite classes in high school, and never looked back.
James enjoyed his new direction, particularly an urban geography class led by UTSA Assistant Professor Nazgol Bagheri. The students conducted field work, examining public spaces along the River Walk.
"There is so much that geography can answer, especially when it comes to issues of social segregation, environmental injustice and other problems that are coming to the forefront in the media," said James.
James credits Bagheri and UTSA Professor Richard Jones with providing him the support and encouragement he needed to consider pursuing graduate studies.
Eventually, James would like to pursue a doctoral degree and work in urban planning or city development.
- Kris Rodriguez