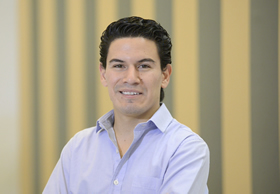 Manuel Lechuga
---
Mechanical engineering graduate is grateful for family and UTSA support
---
Meet Manuel Lechuga. He knew when he was in high school in San Luis Potosi, Mexico that he wanted to study engineering. It was just a matter of narrowing it down to the right area.
Lechuga determined that he should become familiar with the range of fields in mechanical engineering before settling on a career choice. He learned about the automotive industry by watching Formula One racing and researching how engineering is involved in the field. During summer 2012, he served in a plant maintenance internship at an H-E-B manufacturing facility, an opportunity that let him apply technical information he learned at UTSA.
For his senior project, he is delving into medical applications of the field by designing and building a prosthetic foot made of longer-lasting materials and technologies. He also is learning all he can from a winning team that competed in one of the UTSA Center for Innovation and Technology Entrepreneurship (CITE)'s previous tech competitions. They designed a prosthetic cooling system that makes the device more comfortable to use on one's leg.
He learned that the oil and gas industry will have many career opportunities in exploration and production and now plans to look for a job in this field.
Financial problems delayed his senior year, but with the support of his family, friends and UTSA financial aid, Lechuga was able to return to finish his degree this year.
He is impressed with how much the university is expanding research opportunities for students and bringing advanced equipment into its laboratories.
"And, it is a really cool thing that UTSA has so many faculty members from prestigious institutions across the nation and around the world, who are sharing their expertise and knowledge," said Lechuga.
Besides the top-tier research opportunities for undergraduates at UTSA, Lechuga has found several student organizations, inside and outside engineering, very helpful in connecting him with university life and achieving his academic goals. He was chapter president of the American Society of Mechanical Engineers (ASME) last year and remains active in that group and the Society of Mexican American Engineering and Scientists (MAES).
"I am thankful to be here at UTSA, and I am not taking my education for granted," said Lechuga. "I want to acknowledge my parents, family and friends who have been so supportive. I wouldn't be here without them."
- Tim Brownlee