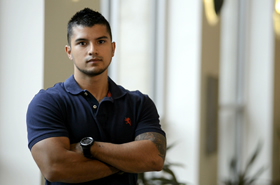 Marcus Gonzalez
---
To serve and protect: Army experience put criminal justice major on the right road
---
Meet Marcus Gonzalez. As far back as he can remember, Gonzalez has known what he wanted to do with his life.
"I always wanted to be a cop," said the UTSA student, who will receive his undergraduate degree in criminal justice. "Before middle school, I knew I wanted to be in the FBI. It stuck with me. Why? I don't know. I was born with it."
But it took a stint as an Army Ranger to show Gonzalez, a Houston native, that dreams can only be accomplished with hard work. Gonzalez concedes that he was not a good high school student and his first experience at higher education, community college, "started off bad."
Five combat deployments – four in Afghanistan and one in Iraq – changed that. The military offered a way "to see what the real world is like," and for Gonzalez, it turned out to be a transformative experience.
"I came out of the military focused," he said. "That's what put me in the direction I'm in now."
Still, it took a semester to sharpen that focus. Gonzalez started out as a business major, thinking that an accounting degree would help him investigate white-collar crimes with the FBI. But accounting just wasn't where he wanted to be.
A friend in law enforcement advised Gonzalez to "pursue a degree you like." He switched to criminal justice, and things began to fall in place.
Gonzalez also completed an internship with the U.S. Postal Inspection Service, where "they treated me as an up-and-coming inspector."
"Marcus has a strong academic record, and he's actively involved in community service here in San Antonio," Newsome said. "He has never wavered from his commitment to serving in law enforcement. Everything he has done at UTSA tells me he's going to make it happen."
The FBI is still at the top of Gonzalez's list of career choices, but he would also jump at the chance to join the Drug Enforcement Administration or other federal law enforcement agencies. And he has a backup plan: the Houston Police Academy.
"I'm focused. I want to get a job and start working," Gonzalez said. "I will go where ever it takes. I'm not limiting myself or my options."
- Mark Langford