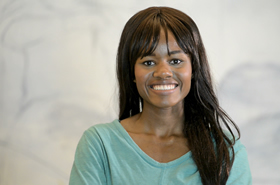 Shanice Mzava
---
First-generation Honors College graduate looks to pursue a doctoral degree in chemistry
---
Meet Shanice Mzava. Her goal is to earn her doctorate degree in public health by her 27th birthday.
Before attending UTSA, Mzava dreamed of attending an East Coast university and becoming a Supreme Court Justice. While in high school, the Dallas native was part of a legal studies cohort. But a trip to a Texas law school convinced her that a career in law wasn't going to be her cup of tea. When UTSA offered her a full scholarship, she decided to stay in state.
At 17, she enrolled as a UTSA political science major. But she took health courses during her freshman year and eventually changed her major. The topic has interested her since her childhood.
"I've generally been a healthy person," said Mzava. "But it didn't always come naturally. I was a chubby kid growing up."
Mzava clearly remembers one instance in particular. When she was in the first grade, she participated in her school's field day. Part of the day included running a race. She remembers finishing in last place.
"I was crushed. I wanted to cry. It was the most horrible feeling," she recalled. "And you know how kids can be, especially in the first grade. They can be so mean."
But a couple of fifth graders ran up to her after the race and gave her a ribbon for her participation. At the time, she didn't quite understand the concept.
"I just knew that these really cool older kids were talking to me, and they were smiling and giving me a ribbon and a pat on the back. I felt so happy. I really liked that feeling."
Eventually, Mzava made a concerted effort to lose weight and became involved in school sports. In middle school, she participated in volleyball, basketball, track and powerlifting. In high school, she continued in track and powerlifting.
Today, Mzava looks at children with concern. So many are obese, she points out, and if they don't break the cycle as children, they'll become overweight teens and overweight adults.
"Children today are facing serious diseases," she said. "They're already exposed to heart disease—and you shouldn't be exposed to heart disease at the age of five. They're also exposed to diabetes, high cholesterol, high blood pressure."
While Mzava is worried about them physically, she's equally concerned about the psychological aspects.
"The solution requires a multidisciplinary intervention," she says. "There are social aspects, economic aspects, governmental aspects to this problem. It's not for the faint of heart." She says any successful solution must instill long-term lifestyle changes.
While at UTSA, the University College student has worked hard to promote living a healthy lifestyle. For two years in a row, she partnered with Aramark to hold healthy living events at the Roadrunner Café, UTSA's on-campus dining hall, in honor of Food Day, celebrated around the nation each October.
The first year, she showed a video about juicing and worked with the Roadrunner Café to replace its dessert bar with a juicing bar for two full days. Students loved it, she recalls.
The second year, Mzava placed scales in the Roadrunner Café's tray drop-off area to raise awareness of portion control by measuring wasted food. "You can't believe how much waste there was," she said. "It was astronomical."
While at UTSA, Mzava has taken advantage of many other opportunities outside the classroom. She attended the Texas Dietitian Expo and the Federal Nutrition Expo, national conferences that both happened to be held in San Antonio when she was a freshman. She's also organized cooking demos at the Campus Recreation Center's Demonstration Kitchen, one of only two in the nation on a college campus.
Working through the Campus Rec Center, Mzava has served as a pillar of the men's club Lacrosse team. Since her freshman year, she's recruited players for the team and served as its secretary, treasurer and assistant coach.
She also helped bring the women's club Lacrosse team to UTSA, an endeavor that took her more than three years. The team was approved begin practicing on campus this fall.
Other UTSA extracurriculars include service as a Student Government Association COEHD Senator and membership in Dieticians Today and Tomorrow, the Pre-Physical Therapy Society, Golden Key Honors Society and Phi Kappa Phi honors society. She is also a founding member of Sigma Alpha Lambda, the nation's oldest and most selective multi-disciplinary honors society. She currently serves as its president.
This fall, Mzava will cross the commencement stage to earn her bachelor's degree in Multidisciplinary Studies. Her focus areas included public health, sociology and business. With AP credits and a couple of summer courses beyond her regular course load, she'll complete her degree in three-and-a-half years, a pride point because it makes her a good steward of the money she's been given for her education, she says.
While she doesn't yet know which aspect of public health she wants to build her career on, she's certain that she wants to work with people.
"I want to serve the people and make everyone healthy and happy. It was cool to potentially become a Supreme Court justice. But this is cool, too. It's really cool."
- Christi Fish