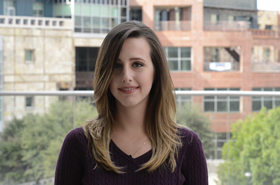 Teresa Barker
---
Step by step: House designer also needs structure in life
---
Meet Teresa Barker. For this architecture student, building a life has been much like building a house – one step at a time.
Barker, who is training for her first half-marathon in February, says sports and the exacting nature of architecture taught her to be strong-willed and determined.
"They have helped me and made me who I am," she said. "I'm the kind of person who needs to have structure. I need organization. I need that to be truly happy."
Barker's structured life was tested this spring when she participated in a study abroad program in Urbino, Italy. Being uprooted to a completely new culture and environment was a "scary" prospect for someone who carefully plans each step.
"Since I was little, I've always asked, 'What am I going to do next? What are the next steps ahead?' I had to overcome that." Barker did not get a chance to take an Italian course but picked up some of the language on her own. Urbino turned out to be "amazing."
"It was one of the best experiences of my life. I learned so much about myself, about architecture," Barker said. "It was a once-in-a-lifetime experience. It opened my eyes to a broader world. I came back a different person."
Working with their professors, Curtis Fish and Mark Blizard, Barker and her classmates produced a video to help analyze the streets and structures in Urbino.
"We looked for key elements and did a lot of drawings and sketches," she said. "It was very analytical. We broke the buildings up into parts to figure out the space between the columns, the space between the nave and apse."
"She submerged herself in the program of study, the course work, Italian culture, food and the richness of the experience," said Blizard, who teaches architecture and often teaches in the study abroad program. "She became one of the most committed students I have taught. Over the course of a single semester, she matured as a student of architecture and as a human being––a student of life."
Professionally, Barker wants to design houses that will be more than just a shelter for the people who live there. She wants to create spaces for light to come in, spaces to "sit and drink coffee. I want to create moments like that for people, give them that chance to have the home they want and to create memories, a place to become more spiritual."
Structure is an important part of Barker's personal life. She had a strong relationship with her parents growing up in Laredo, but as an only child, she had no younger siblings to mentor or older siblings to look up to and follow. There was no one to help "cushion the blow" when things didn't work out.
"It is challenging to grow up without brothers and sisters. You have to find your own way, be more independent," Barker says. "But that has helped me in life. I wouldn't have it any other way."
Barker wants to have her own family someday, but like everything else in her life, that will come at the right time and place.
"I want to be a mom, but I want to follow my dreams and goals first. I want to be established, independent financially, then be able to take that next step," Barker said. "Life is in steps. If you skip a step, it can affect everything else."
- Mark Langford