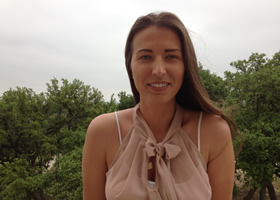 Aleksandra Vucic
---
Architecture student Aleksandra Vucic is following in her mother's footsteps
---
Master's student is inspired by Serbian architecture
Aleksandra Vucic's birthplace, Belgrade, Serbia, is a patchwork of architectural styles. Historic cathedrals share space with the modern buildings that dominate Belgrade's skyline. As the daughter of a licensed architect living in such an architectural melting pot, it isn't any surprise that Vucic will receive a master's degree in architecture.
Growing up, Vucic often accompanied her mother into the field as she oversaw construction of the buildings she designed.
"Our house was basically her office," Vucic said. "She would do all her drawings at home. I would be watching her hand-draw the building plans, and then I would go into the field with her and watch her interact with contractors. It was an interesting experience, learning about how an architect does not only design but also performs other field duties. This is where my inspiration comes from."
As a teenager, Vucic was an avid and talented tennis player. While enrolled in an architecture program in Belgrade, she began applying for tennis scholarships in the U.S. In 2005, she was recruited by Abilene Christian University, where she spent the next four-and-a-half years competing in its nationally ranked tennis program.
At Abilene Christian University, Vucic received a bachelor's degree in interior design, but she remained an architect at heart. As part of the interior design program, Vucic completed an internship with a small architecture firm, Seidel and Associates in San Antonio. After graduation, she interned with an interior design firm in Belgrade for a year.
Vucic then moved to San Antonio and enrolled in the UTSA Master's of Architecture degree program as an M.Arch III professional program student. The M.Arch III professional program is designed for students with undergraduate degrees in fields other than architecture.
At UTSA, Vucic's accomplishments have been consistent and impressive. Every year since she enrolled, she has received scholarships to fund her tuition including the prestigious Kimberley and Ron Blank Annual Scholarship in Architecture. During her first year, two of her studio projects were displayed in the San Antonio chapter of the American Institute of Architects Gallery. Last year, she was nominated as an Outstanding Student in the UTSA College of Architecture.
"Aleksandra is an exceptional student," said Robert Baron, associate dean for Academic Affairs in the College of Architecture. "She is very creative, highly disciplined and has an incredible work-ethic. As an international student, she has a unique perspective on the world that makes her emblematic of the very best international students in the College of Architecture."
After graduation, Vucic plans to work toward her licensures in architecture and interior design, respectively. In the future, she hopes to join an architecture firm and focus on commercial architecture and urban design. It won't be an easy road to reach her goals, she admits, but the hard work will ultimately be for her benefit.
"Every piece of hard work is rewarded," said Vucic. "Keep working and be passionate because it will be worth it in the long run."
- Jesus Chavez