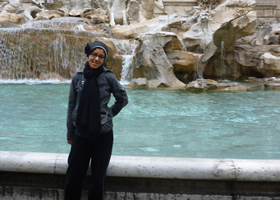 Itza Carbajal
---
Katrina evacuee Itza Carbajal is driven to help others
---
UTSA Study Abroad let double major learn more about nonprofit work
"Open up your horizons and experience all the diversity the San Antonio area has to offer." That's the advice 22-year-old College of Liberal and Fine Arts honors student Itza Carbajal would offer to future students looking to attend UTSA.
"Don't just stick to the Main Campus. Try the Downtown Campus, Boerne, Fredericksburg, New Braunfels and the surrounding communities as well."
Prospective students would be wise to take Itza's advice. Though she is young, the honors student has already visited 50 cities in four countries, either studying abroad or doing non-profit work to help the less fortunate.
A New Orleans native of Honduran descent, Itza came to UTSA to pursue a double major in history and English after relocating to the Houston area following the devastation from Hurricane Katrina.
"It was supposed to be a temporary situation, so we left in a caravan with my mom's friends and decided we would all help each other get back on our feet," said Carbajal. "My mom saw the value in the educational resources there, so we decided to stay there so I could finish my education."
After graduating and considering several out-of-state schools, Itza decided to attend UTSA, because it was in an urban area and she thought that would help her succeed in her studies.
During her junior year, Carbajal participated in a Study Abroad Program in Italy and took advantage of the rail transportation system, visiting 25 cities over a five-month period.
"I enjoy the experiences of traveling, so I would finish class Thursday night then come back Monday morning before my first class would start," said Carbajal. "I figured it would be a waste if I did not expose myself to the cultures of the other nearby cities while I had the opportunity."
While studying overseas, Carbajal also worked for a non-profit co-op visiting neighboring European countries and assisting the down-trodden.
Non-profit work has always been in Carbajal's blood. Throughout her life, she has traveled back to Honduras annually to visit relatives and work with orphan children.
"I was basically a big sister to 30 children who did not have parents, were removed from abusive homes or lived among the homeless," said Carbajal. "A lot of it was just talking and listening to them since many were neglected and came from homes that did not have loving or understanding environments."
As a stellar student in the UTSA Honors College, Department of English faculty member Ben Olguin nominated her for a Soros Fellowship. The fellowship is designed to help children of immigrants pay for graduate school.
"Ms. Carbajal is a once-in-a-lifetime student who has managed to make her individual education resonate far beyond her own life," said Olguin. "She cares in a smart way, which has led her to identify the next steps she needs to undertake to continue serving humanity, one locality at a time."
Currently, Carbajal works at the Esperanza Peace and Justice Center where she spearheads several non-profit projects.
"Sometimes I am organizing; other times I am on the streets circulating petitions. Then there are times when I am on the phone contacting the elderly who may not have access to the Internet and are not aware of issues taking place in their communities," said Carbajal.
This summer, Carbajal hopes to be accepted into The Archival Education and Research Institute (AERI) at the University of Texas at Austin. Funded by two-year grants from the Institute of Museum and Library Services—Laura Bush 21st Century Librarian Program, AERI aims stimulate the growth of a new generation of academics in archival education who are versed in contemporary issues and knowledgeable about the work being conducted by their colleagues.
Carbajal also plans to take a year off and gain more work experience before pursuing graduate and doctoral degree studies in non-profit management. Long-range plans include enrolling and earning a degree in law.
– Kris Rodriguez