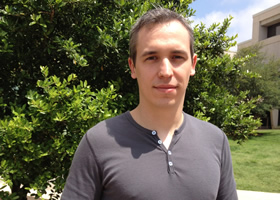 Nathanael Holliday
---
Music Man: Multidisciplinary Studies degree in tune with Nathanael Holliday's aspirations
---
Customizable degree program allowed undergrad to study history, music and French
Nathanael Holliday, a U.S. Air Force staff sergeant veteran, is an avid student of American History. In fact, he enjoys the discipline so much that he aspires to earn a law degree and a Ph.D. as preparation for a career in academia.
But outside the classroom, Holliday is better known for his skills in audio engineering and electronic music production. His unique musical repertoire includes blends like "The Feast," "Space Mass," "Urban Birds," a cover of Pink Floyd's "Wish You Were Here…" and "Serendipity" – electronic mixes characterized by sounds of nature, as if they are weaving a thoughtful memory set to last a lifetime.
Earlier this spring, Holliday played at the Mardi Gras Festival in Houston. The bassist also been featured at shows in Austin and San Antonio.
At most universities, merging two interests wouldn't be easy. But UTSA's Multidisciplinary Studies program allowed Holliday to customize a degree plan to his unique strengths. Through the Multidisciplinary Studies program, undergraduates combine courses from three subject areas, provided one is offered through the College of Liberal and Fine Arts. Students are required to take six courses in the first focus area and five courses in the subsequent disciplines.
Holliday ultimately chose to pursue a customized degree program with concentrations in history, music and French. The combination allowed him to develop a degree plan tailored to his interests and future goals.
"I'm from a French family so I was attracted to courses in French music and film. It has since rubbed off on my own music."
Like many UTSA students, Holliday treated education as a year round pursuit, taking classes in the fall, spring and summer. And that discipline has paid off. Just three years after he began, Holliday will cross the commencement stage with a 3.94 G.P.A. The moment will be extra special for the first-generation college student, whose family will be in the stands.
Holliday's early finish is no surprise to Kristi Meyer in the UTSA Graduation Initiative Office, where Holliday has been a work-study student for two years.
"As an employee, Nathanael demonstrates a keen attention to detail and he really takes the time to think through tasks in order to cover all potential challenges and obstacles," said Meyer. "He applies this same kind of critical thinking and careful planning to his school work, which is why he has been such a successful student. He is exactly the kind of student, and worker, who makes UTSA such a great place. "
Listen to Nathanael's music at http://www.reverbnation.com/nathanaelholliday.
– Christi Fish