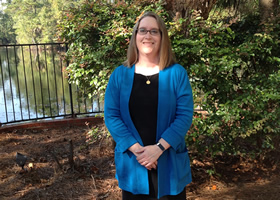 Sharon Agold
---
Biology honors student earns bachelor's degree after six year hiatus
---
UTSA's Welcome Back Program allowed Sharon Agold to fulfill lifelong dream
In 2006, Sharon Agold was just five classes away from earning her UTSA bachelor's degree in Biology with Highest Honors. But life took a turn and she was forced to re-locate.
She landed 65 miles away from the closest university, Cal State Bakersfield, but remained set on earning her degree.
"I promised my grandparents I would go to college and get a degree," she recalls. "That was always in the back of my mind. It was important to me to keep that promise."
She attempted to register for her last three laboratory courses at Cal State Bakersfield only to learn that the university would not uncouple the registration for its science lecture courses from their corresponding laboratory sessions. To complete the laboratory courses she needed, Sharon would have to re-take courses she had already excelled in at UTSA.
It was a difficult predicament. Sharon had family obligations and couldn't afford any extra time away from home. She recalls talking to Associate Dean Ann Eisenberg in the Honors College.
"I told her I wanted to finish at UTSA. I told her I'd consider anything. We talked at length. At some point, she told me about the Welcome Back Program and connected me to people who could help me."
The Welcome Back Program, administered by the UTSA Graduation Initiative Office, supports UTSA undergraduates who are just inches away from earning their degrees. Students in good standing who have completed at least 96 semester credit hours are eligible to return to UTSA. (Learn more about program eligibility.) To date, more than 194 students have taken advantage of the program. Three-quarters have completed or are on track to complete their degrees.
Ultimately, Sharon completed her degree requirements by taking two upper division courses at Cal State Bakersfield and two online laboratory courses from the University of New England. She credits Dean Eisenberg for helping her achieve her dream.
"Dr. Eisenberg moved heaven and earth to help me get my credits transferred so that I could get my degree," Sharon recalls. "She never stopped encouraging me or telling me not to worry. She never gave up on me. She always said we could get it done."
Agold also has high praise for biology professor Edwin Barea-Rodriguez. With his guidance, and with help from biology lecturer Guillermo Espinoza, Ph.D. and former engineering lecturer James Frazer, Ph.D., Sharon developed a laboratory exercise to teach students about action potentials in a way that would encourage true learning instead of rote memorization. The process Sharon developed and documented in her honors thesis is now offered in the UTSA undergraduate Neuroscience laboratory course – ironically, a course she never was able to take.
"Dr. Barea-Rodriguez is the type of scientist I want to become. He was my mentor and he never stopped believing that I could accomplish my thesis or my degree."
She adds, "There are so many great professors at UTSA. They truly care about their students. I never felt like a number at UTSA. I always felt like one of the family."
On May 11, Sharon will realize her dream of becoming a UTSA alumna when she receives her commencement stole from Edwin Barea-Rodriguez during the Honors College Commencement ceremony. She plans on pursuing a career in Neuroscience research.
"Sharon is very bright and passionate about learning, but what has impressed me most about her is her persistence," said Eisenberg. "She has faced enormous challenges in the past seven years, and yet she never lost sight of her goal: to earn her degree and to be able to say proudly that she is a UTSA alum. Sharon took the message 'Roadrunner for Life' to heart."
– Christi Fish