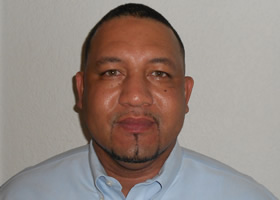 Will Dawson
---
Public servant William Dawson sees education as a way to help
---
Public administration grad student has supported fellow UTSA veterans
William O. Dawson, III is a life-long public servant. As a community planning and development representative at the U.S. Department of Housing and Urban Development, Dawson understands the importance of devoting himself to helping less fortunate and under-served citizens.
"What draws me to public service is knowing that I can make a daily difference in the lives of America's less fortunate," said Dawson, 46. "I sleep very well knowing that I get to wake up the next morning and potentially make a positive and lasting impact in the lives of hundreds or maybe even thousands of America's less fortunate citizens on a given day. It's very, very fulfilling."
Dawson's office provides numerous socio-economic and community development grant programs including housing and community assistance programs for low-income residents, housing opportunities for persons with AIDS and special assistance grants for the homeless in 19 Texas cities and counties. Dawson oversees the daily monitoring, administration and execution of these grants throughout Texas with a specific focus on the border cities in the Rio Grande Valley.
"You can ride around many of these cities and see community development or housing activity happening in less-developed or low-to-moderate-income neighborhoods, or you can pass any AIDS hospice or homeless shelter, and often it will say on a sign out front what grant helped fund it," said Dawson. "Seeing that, you know that you've had a part in making it happen and potentially transforming someone's life."
Originally from Norfolk, Va., Dawson served in the U.S. Army for 21 years before retiring as a chief warrant officer. He worked in the military intelligence field throughout his career with worldwide assignments and deployments, but his first military assignment was in San Antonio. Dawson said that as soon as he got to San Antonio, he knew it was home.
"I eventually moved on from that first assignment to other assignments," said Dawson, "but I never really left San Antonio. I'm a transplant from long ago."
Dawson eventually returned to San Antonio from Germany in 2008 and enrolled at UTSA. Originally, Dawson had only planned pursue his bachelor's of political science degree from the UTSA Honors College, which he received in 2010, but he decided to continue his academic pursuits with a Master's of Public Administration (MPA) degree from the UTSA College of Public Policy and a graduate certificate in non-profit administration and leadership.
Dawson is an active member of UTSA's community of veterans. He is a founding member and the outgoing three-term president of the UTSA Student Veterans Association (SVA), which has 150 lifetime members. The SVA provides direct advocacy, advisory, professional development and support services for more than 2,500 UTSA student veterans, service members and their families on our campuses. Dawson also serves on the UTSA President's Veterans Services Advisory Committee.
"About four years ago, a group of us veterans got together," said Dawson. "The more activist of us within the community saw that there was a new type of returning veterans coming to UTSA."
"These veterans had a lot of unique needs," he continued. "We didn't want them to have what happened to the veterans returning from Vietnam on college campuses happening to them, so we thought that we should develop a support network for our veterans. We put our heads and resources together and created the SVA. Since then, we've become the main thrust of folks who advocate for virtually any veterans issue or initiative that you see at UTSA."
Now that Dawson is graduating, he is looking forward to continuing on his path of public service in the federal government and volunteerism within the community. Moreover, he is considering additional graduate certificates from UTSA that could help him professionally and personally, anything that could help him better serve our less fortunate and under-served citizens.
"If there's one thing that could be written on my gravestone, it'd be something to the tune of 'Here lies Will, who served the less fortunate,'" said Dawson. "It's what I wake up every day to do, and it's what I hope to go into eternity doing."
- Jesus Chavez