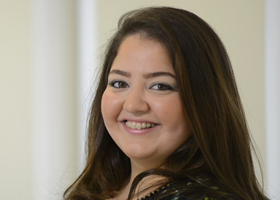 Romina Aznavaleh
---
Elements of excellence
---
Chemistry graduate Romina Aznavaleh combines dedication and abilities on the road to medical degree
The first chapter in 23-year-old Romina Aznavaleh's educational journey will come to an end when she graduates with a Bachelor of Science degree in chemistry and two minors. Her next chapter will begin in the fall when she enrolls in medical school to pursue her dream of becoming a pediatrician.
Aznavaleh's road to success was not an easy one. She came to the United States from Persia with her family when she was in 7th grade and only knew a few words of English. To catch up to her classmates she would forego her social life and focus on her studies, staying up late to complete her homework. Rarely would she ever be seen without a dictionary by her side as she strove to get a better understanding of the English language. Her efforts were rewarded, though, when she scored a 1740 on her SAT test and graduated 17th out of a class of 800 at Reagan High School in 2009.
With a close-knit family, Aznavaleh decided to stay close to home and enrolled at UTSA where she worked in the laboratory of UTSA Chemistry Professor Ghezai T. Musie.
The researchers are investigating the interaction of biologically relevant sugars with several metal complexes, in hopes of understanding the mechanisms of intercellular recognition, signal transduction, fertilization, and as targets of bacterial or viral infections of cells.
"Romina is a wonderfully hard working student that has realistic expectations and always puts forth the effort needed to succeed," Musie said. "She is also persistent and constantly devising strategies when she finds herself encountering difficulties in her studies."
As a Roadrunner, Aznavaleh excelled and became very active in campus life, holding officer positions for a number of organizations including the Pre-Med Society, Biology Honor Society, Honors Alliance and Optometry Club. Additionally, she provided supplementary instruction for chemistry for four years in the Tomas Rivera Center.
The confident and headstrong senior is proud to be the first one in her family to earn a college degree and looks forward to guiding her 17-year-old brother Rambod along the way on his way to become a neurobiologist.
"UTSA is a place with a lot of great opportunities," said Aznavaleh. "If you are a person that goes after those opportunities you will be able to use them to help make yourself a better person."
– Kris Rodriguez