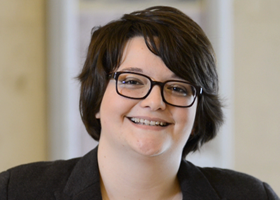 Shelby McCowen
---
Triple-crown grad
---
Honors student Shelby McCowen will graduate with three Bachelor's degrees
This May, Shelby McCowen will accomplish something that few Roadrunners can boast: The 20-year-old undergraduate will earn bachelor's degrees in Biology, Chemistry and Biochemistry with a near-4.0 GPA. And, if that's not enough, she'll cross the commencement stage with highest honors from the UTSA Honors College.
A San Antonio native, McCowen has known for a long time that she was destined for a science career. She attended John Jay Science and Engineering Academy – "math was my favorite subject" – and completed an internship at the UT Health Science Center the summer after her junior year. That internship alongside Dr. Rajeshwar Tekmal opened her eyes to a research career.
"When you think of research, you think of Einstein – you think of geniuses," said McCowen. "For the first time, I realized that this was a viable option. I could do this and I enjoyed it."
Just after turning 18, McCowen began taking classes at UTSA. After getting settled into campus life for a semester, she jumped straight into research.
Through a referral from the UTSA Health Professions Office, the UTSA freshman began researching the effects of the deletion of ERK2 on T-cell proliferation and survival in Dr. Thomas Forsthuber's Biology laboratory. The research has possible applications to multiple sclerosis treatment.
McCowen quickly learned that the cells she was studying were highly prone to cell death. That meant that her tests were inconclusive. To get results that would allow for clearer interpretation, she had to re-design her experiments.
The experience taught her "how finicky science can be."
"We had to overcome some inherent problems," she recalls. "It was a lot of trial and error."
Despite her initial frustration, the experience unveiled a world where critical thinking was key. It was an environment that McCowen grew to love. She stayed in Dr. Forsthuber's laboratory for two years. Her research findings are chronicled in her Honors thesis.
But biology wasn't McCowen's only interest.
"I came to UTSA with a lot of AP credits, so I was able to take Organic Chemistry right away," she recalls. "O. Chem. made me think. It challenged me. So I added on the chemistry major to get the best of both worlds."
This semester, McCowen conducted research with UTSA Professor Harry Jarrett to complete the independent study requirement for her chemistry degree. Using mass spectrometry, she tested a novel method to identify transcription factors bound to different DNA sequences.
While at UTSA, McCowen has also taken a variety of Honors College seminars. And after realizing that she only needed one extra class to earn her biochemistry degree, she added that on, too.
"Why not?" she says, with a smile.
Now, at 20, McCowen has completed the requirements for three bachelor's degrees in three years. Upon graduation, she plans to get a job in a research setting. She's interested in studying infectious diseases, but she's not sure if she wants to do so through the lens of immunology or biochemistry. She's hoping a year off will help her find her niche.
"When Shelby joined the lab, it was immediately clear that she was a very bright and highly gifted student determined to establish herself in science," said Dr. Forsthuber. "However, what she showed us over the next couple of years was that she had the strength and inner determination to successfully overcome the many obstacles that are part of daily life in research and she did so with a smile on her face. I am sure that just as she has succeeded in our lab she will be successful in every endeavor that she tackles in the future. We will definitively miss her."
– Christi Fish