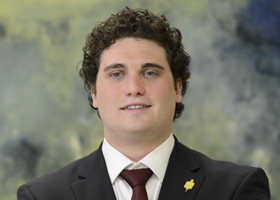 Trevin King
---
From grocery line to flight line
---
Criminal justice graduate Trevin King plans to pair his small-town experience with top-tier knowledge
Criminal Justice graduate Trevin King grew up in Brownwood, and from a young age, worked in his family's grocery store in the small town in central Texas. He learned that it's important to talk to people and learn about their experiences. This opened his eyes to possibilities for the future, and UTSA would be one of his destinations.
Opened almost a century ago by his great-grandparents, the family store exposed King to a lot of people, who told interesting stories that gave him lots of ideas. He became assistant manager of the grocery store as well as helping to run their cell phone store. This led King to his interest in business.
Along the way, King represented his hometown in a number of ways, but the most important to him was his achievement of becoming an Eagle Scout as well as being selected in his sophomore year in high school to be a member of the Hugh O'Brien Youth Leadership organization. Described by King as a "leadership camp on steroids," he put in hundreds of volunteer hours with nonprofit groups in the Dallas-Fort Worth area. He now is a senior facilitator for the group's leadership camp and will sponsor a student from his high school.
Adding to his achievements, King recently earned a private pilot's license with the encouragement of his father, a flight instructor. He enjoys flying single-engine planes and wants to get training to fly private jets.
King heard of UTSA's great reputation, so he applied. At the Downtown Campus, he took an introductory course in criminal justice taught by Henry Meade and was sold on the major.
"Henry Meade stood out as a teacher who cares about students and their future," said King. "He and every other professor in the department have experience in their field, and they each tell a real-life story of what's going on in the world."
According to King, Meade asks his students, "What do you enjoy doing, what do you want to do with your degree -- and how can you connect the two?"
It was the kind of guidance he needed, and his professors' contacts in the public sector and letters of recommendation helped him get an internship with Bexar County Emergency Management.
"In the internship, I'm learning about how to do emergency planning, and I'm enjoying working with people in the Red Cross and at hospitals," King said. "To tie all of my experience together, I'd like to work for an airline in emergency management."
Who would have thought working at a small grocery store in Brownwood, Texas, would lead you here? Trevin King. He knew anything was possible.
– Tim Brownlee