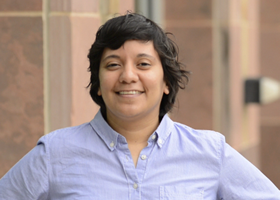 Yolanda Diaz
---
Reinforcing the good
---
Diaz will use positive interventions to help kids in elementary schools
Yolanda Diaz remembers how her mother would encourage her to do well in school while she was growing up – by checking how neat her handwriting was on her schoolwork. Diaz's mom didn't know how to read or write, but she encouraged her daughter in the way she knew.
"At the time, I was annoyed with my mom's demands and never understood. Today I am grateful and honored to have such an amazing woman in my life," Diaz said.
Now Diaz is going to graduate with a master's degree in educational psychology and help students in the way she knows, by using her experience in Positive Behavior Interventions and Support. It's a method of using positive reinforcement to help kids be successful, she said, and she wants to use it to make a difference in children's lives as a school psychologist.
"Yolanda is a great student and great individual that I know will be successful and a great asset to any team," said Joaquin Lopez, a student development specialist who works with Diaz.
For Diaz, 37, traveling the road to where she is now took a little while. She graduated high school in 1994 and from UTSA in 2007 with an undergraduate degree in psychology.
But after a few years of working in a large grocery store in Austin, she knew she needed to make more of an impact.
"I didn't want to do what I was doing anymore. I outgrew what was going on in my life," she said. "I just surrounded myself around a lot of people who were positive about me moving forward."
And outgrown it she has.
"Not only is Yolanda always eager to lend a hand wherever one is needed, but also she brings a great sense of humor that keeps all of us on our toes," said Billie Jo Rodriguez, assistant professor in the department of educational psychology. "I have no doubt Yolanda will make an excellent school psychologist. I'm excited for her and glad she chose to take on the challenge of graduate training in school psychology. She's going to make a difference in the lives of many kids who need a voice of support and encouragement."
– Marissa Villa