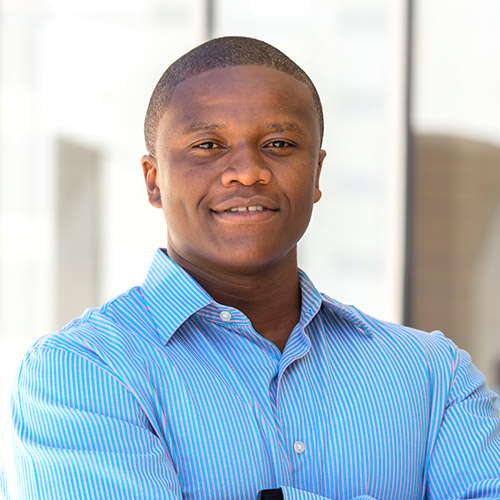 Charles Chikelu
---
After graduation, Chikelu plans career as an officer in the U.S. Army
---
Meet Charles Chikelu. From a young age, this UTSA multidisciplinary studies major and child of two nations has heeded the call to service.
Born in the state of Enugu, Nigeria, Chikelu and his family migrated to the U.S. in 2000. The move was a dramatic shift for the then 11-year-old. Though he was excited to see what his new home and life in Silver Spring, Md. would be like, the transition wasn't without its challenges.
"I had to start fifth grade as an English-as-a-Second-Language student," said Chikelu, now 26. "English and classes were initially a bit of a challenge for me. But I didn't let that deter me in the slightest."
Chikelu passed his ESL classes and went on to excel in school. He became a confident and outgoing student, and even developed a predisposition for service and leadership in his community. By his junior year of high school, he realized that he wanted to translate that penchant into a career. He joined the U.S. Army shortly thereafter.
"From early on, I knew that I wasn't interested in a traditional path through life," Chikelu said. "I was able to attend school in the U.S. and benefitted greatly from the experience and from being a citizen. Through the military, I saw an opportunity to give back to my country."
In the Army, Chikelu traveled the world working in different capacities. Eventually, he found himself at Brooke Army Medical Center (BAMC) in San Antonio. There, he worked as a surgical technologist. That opportunity taught him a lot about medicine. He enjoyed helping surgeons in the operating room.
Working at BAMC also gave Chikelu the opportunity to help the less fortunate. He traveled to Honduras with his surgical team to provide free and low-cost medical services to its underserved citizens.
"People would often wait an entire year for the services we offered," Chikelu said. "I knew that helping people is what I was meant to do, but I also wanted to inspire others to help. The military was my way of doing that."
When Chikelu decided it was time to earn his college degree, he applied for an officer's program in the military that would allow him to attend school while serving as an active duty soldier. The first-generation student wanted a top-tier university that would sharpen his leadership skills and support his connection to the military.
After conducting an exhaustive search, he enrolled at UTSA because of its strong Army ROTC program. As a Roadrunner and ROTC member, he established himself as a widely respected leader by the cadets under his command.
"I am trying to inspire our cadets to be the best version of themselves that they can be," said Chikelu, who quickly rose in the ranks of the program and now oversees its planning and management as an Army Cadet executive officer. "I believe that the best way to be a good leader is to serve those you lead."
After Chikelu graduates this May, he will move on to a career as a Second Lieutenant in the U.S. Army's Military Intelligence Corps, an appointment granted to him by the President of United States. He's looking forward to the role and says that his time at UTSA has helped him become the kind of leader he wants to be.
"The experiences that I have had at UTSA have changed my perspective on life and helped me become a better leader," he said. "I've learned to understand the world better and grow into a more mature version of myself. I'm excited to take these lessons with me into my military career."
– Jesus Chavez