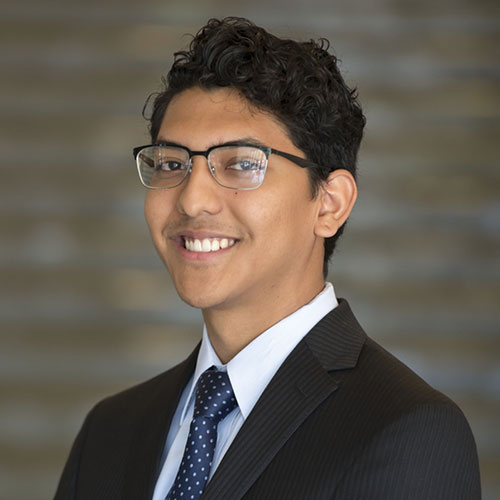 Ricardo Rosales
---
Rosales credits UTSA for guiding him from music to Wall Street
---
Meet Ricardo Rosales. He's a first-generation college student who came to the U.S. for opportunities.
When he was young, his mom wanted a better life for her children, so she moved the family from Mexico to Texas.
"My mom always taught me, you have to think about what's important and take actions to put yourself in a better place," Rosales said.
Growing up, college was Rosales' number one goal. After graduating from Jefferson High School in San Antonio, he attended New York University where he majored in music technology.
"After some time, I realized that it didn't seem like I could see myself doing this for a long period," said Rosales.
He re-evaluated his life and decided to return home to San Antonio from the Big Apple. He joined UTSA and became a member of the Honors College.
"My original thought was I would go to UTSA for one semester then transfer to UT-Austin," Rosales recalled. Soon after he arrived on campus, though, he changed his tune.
"I saw the Financial Studies Center, the sign and the scrolling tickers, and thought it was cool. I took a couple of finance classes and got involved with the Investment Society. Once that first semester passed, I never again thought of going to UT."
Rosales said the UTSA Investment Society deeply impacted the course of his life. He gives a lot of the credit to Ron Sweet '91, the Investment Society's faculty advisor and a finance lecturer in the College of Business.
"Professor Sweet has been an incredible mentor to me, incredibly helpful in giving me that confidence, the vision to think wider about what the world could have in store for me," Rosales said. "If you asked me three years ago where I would be today, I would have said something completely different."
As the current president of the UTSA Investment Society, Rosales has led students in implementing new ideas. He's also seen the organization grow from weekly meetings with 30 people to 80.
"It's rewarding to see myself feel so small then a couple years pass and I've made an impact to make this organization even more special," Rosales said.
Now the UTSA undergrad is taking his top-tier education to Wall Street. He landed a rare internship at Goldman Sachs last summer, and the day his internship ended, the investment banking firm offered him a job upon his graduation.
"I couldn't have done it without the society," he said. "We have incredible professors who are willing to take on a student and just help them, guide them, give them resources to make them better. They don't have lines of students waiting to speak to them. You can develop a relationship with them. It's something I couldn't get from any other school."
Rosales will graduate in May with a bachelor of science degree in mathematics. He says UTSA gave him priceless opportunities.
"The professors taught me you have to teach yourself. UTSA gives you the tools, but you have to be resourceful and read books to be better prepared."
Rosales says it's worth it, and it honors the lessons his mom first taught him as a toddler.
"I want to make her proud and see that all the work and struggle she went through was worth something," Rosales said. "If you have the drive, if you have the vision, you can do it at UTSA."
– Courtney Clevenger