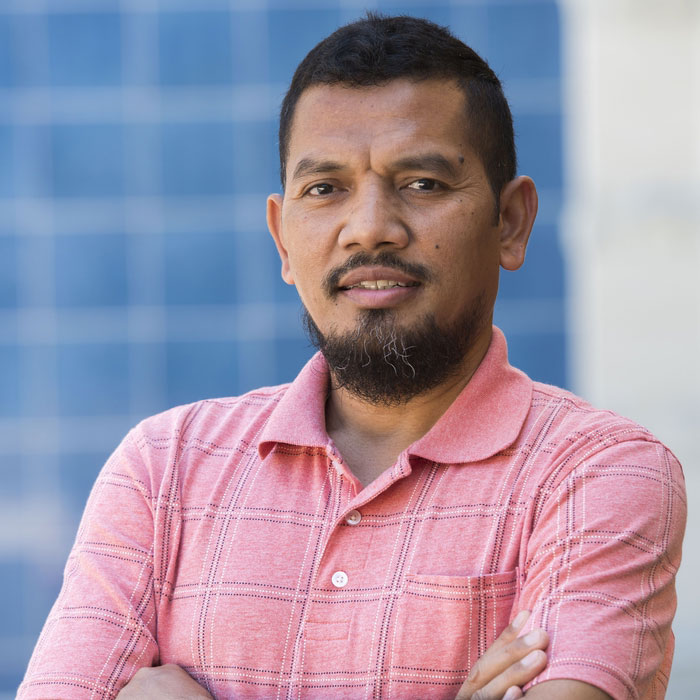 Syahrir Idris
---
Alumnus returns to UTSA to earn a Ph.D. in Culture, Literacy and Language
---
Meet Syahrir Idris. Growing up in a rural village in Bima, Indonesia, an island region in Southeast Asia, Idris never imagined he would have the opportunity to earn a degree in the U.S. For most in Bima, life is dedicated to taking care of the family farm.
"Monday through Saturday, we normally went to school in the morning, went home to change our school uniform into casual clothing and proceeded to the farm," Idris remembered.
Most of Idris' neighbors could not afford to send their children to high school, let alone college, because of the expense and distance. Despite the economic hardship, his parents made the sacrifice to send him and his siblings 30 minutes away to high school for better opportunities.
"As soon as I started learning English, I fell in love with the language and dreamed to be an English teacher. I was so obsessed to go abroad," Idris said.
After earning a bachelor's degree in English Language Education in his home country, he became a Fulbright scholar. He chose to further his education in the United States and, specifically, at UTSA.
In 2000, Idris packed up and moved halfway around the world to San Antonio. He had heard people were friendly in Texas, and he experienced that unique feeling first-hand the moment he stepped foot on the UTSA Main Campus.
"I remember arriving at the engineering building, looking for the international office," Idris recalled. "I asked a man cleaning the building, 'Where is the international office?' He stopped working to escort me to the international office."
Idris' professors offered the same hospitality.
"I have a great rapport with all my professors, so anytime I need someone to consult with, I can just go to my professors or my academic advisor," Idris said.
Idris received a master's in Bicultural-Bilingual Studies with concentration in English as a Second Language (ESL) from UTSA in 2002 and immediately put his top-tier education to use. He returned to Indonesia where he taught English in secondary schools and college.
Then he became a principal and college lecturer. He also began to give speeches about how to study abroad and how to improve language skills.
"Without a master's degree from UTSA, I wouldn't have been able to do all that. It's very prestigious."
In 2011, nine years after leaving San Antonio, Idris returned with his wife and three children so he could pursue his Ph.D. in Culture, Literacy and Language at UTSA.
In addition to working on his Ph.D., Idris has taught several ESL classes at UTSA and helped develop curriculum and assessments for a UTSA language course called English for International Students.
After graduation, Idris plans to teach in San Antonio for at least a year. He also plans to build a legacy by encouraging his children to study hard and attend UTSA.
"I would like one day for my kids to come back here to San Antonio and go to UTSA, even if I go back to Indonesia," Idris said. "I will come back and visit my alma mater. I'm proud to be a member of this institution."
– Courtney Clevenger