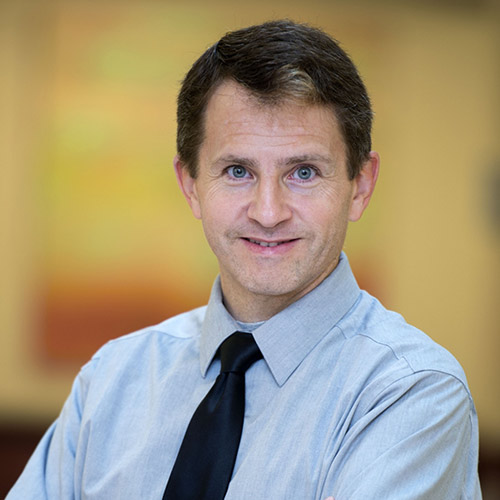 Thilo Janssen
---
After reaching mandatory retirement, veteran pursues an engineering degree at UTSA
---
Meet Thilo Janssen. He's a German Air Force veteran who's starting a new engineering career thanks to UTSA.
At 45, Janssen is a little older than the average college student. That's because before he was a Roadrunner, he flew fighter jets for the military in his home country, Germany, for 20 years.
"When I was a kid, I knew I either wanted to be an engineer or a fighter pilot," Janssen said.
When the veteran turned 41, the age of mandatory retirement in the German Air Force, he pondered becoming an airline pilot.
"I quickly decided against that," he said. "I love flying, but after 20 years of flying jets, it would be like going from being a Formula One racer to a bus driver."
Instead, Janssen pursued his other childhood dream and decided to earn his electrical engineering degree.
He met his wife, a San Antonio native, while he was serving at Randolph Air Force Base, and he already knew San Antonio well from visiting his in-laws over the years. So moving to the Alamo City was a natural fit.
Janssen enrolled in San Antonio College in 2011 to start on his engineering degree. After two years, he transferred to UTSA and immediately found himself right at home, pursuing a top-tier education.
"UTSA is very friendly, and very diverse," Janssen said. "People are very open. I love that I can talk to anyone and no one's just gonna say, 'Well, I don't like you,' and walk away."
He's also enjoyed close relationships with his professors, who Janssen says really believed in him and were impressed by his dedication.
"Professors at UTSA take the time to answer your questions," he said. "I never hesitated to seek extra help, and they were always quick to respond."
A first-generation college student, Janssen is a part of UTSA's Integrated Bachelor's and Master's Degree Program, which allowed him to pursue his undergraduate and graduate degrees at the same time. He's also on track to graduate with a 4.0 GPA. He credits his academic success to hard work and determination.
"Time management is one of the hardest things I had to learn," he said. "I constantly studied but I also wanted to make time for my family; there were a lot of sacrifices."
Janssen's family is extremely proud of his UTSA accomplishments. His wife and their relatives have a big, Texan celebration planned following his graduation. He also plans to travel to Germany during the summer to celebrate with his European friends and family.
Following those celebrations, the UTSA alumnus will return to the United States to begin a career in renewable energy. He's been fascinated by solar panel technology since he was a teenager. Because gas prices are so high in his home country, there's a strong national interest in all types of renewable energy.
"That's one thing I can bring over from Germany," he said. "Over there, we have more windmills than people."
– Joanna Carver