News Bytes
Dessouky named ASCE Fellow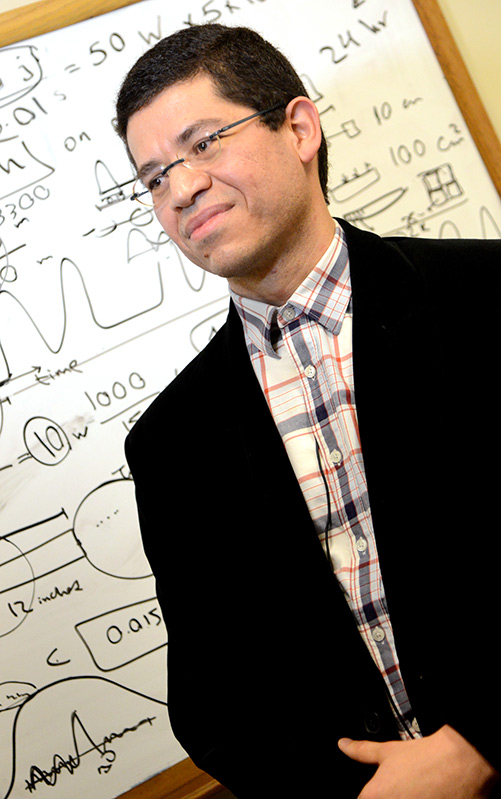 Samer Dessouky, associate professor of civil and environmental engineering, was recently named a Fellow by the American Society of Civil Engineers (ASCE) Board of Direction. With more than 18 years of experience in highway construction materials, sustainability, and safety. Dessouky is actively engaged in research and teaching. His research projects are sponsored by the City of San Antonio, Texas Department of Transportation, U.S. DOT, Federal Highway Administration, Idaho Transportation Department, NASA, Southwest Research Institute, Michelin America, and Tensar International.
He received the Most Innovative award in the Green Engineering category of ASCE's first Innovation Contest in 2016, won the best paper award from ASEE in 2015, and the Grant Mickle best paper award from the Transportation Research Board in 2006. He is the author of more than 90 refereed publications on bituminous materials, computational micromechanics of asphalt mixtures, pavement reinforcement with geogrid, pavement management, energy harvesting from roadways, and motorist safety. He chairs numerous sessions at national and international conferences and has given keynote addresses to present the current state of practice in pavement sustainability.
Dessouky serves as a board member on the bituminous committee of the ASCE Construction Institute and the Middle East Society of Asphalt Technologists. He sits on the editorial boards of both the Transportation and Transit Systems and MAYFEB's Journal of Civil Engineering, and he serves as associate editor for the International Journal of Engineering. He is also a professional engineer in Ohio and Texas.
---
HEB, Rackspace support iTEC Scholarships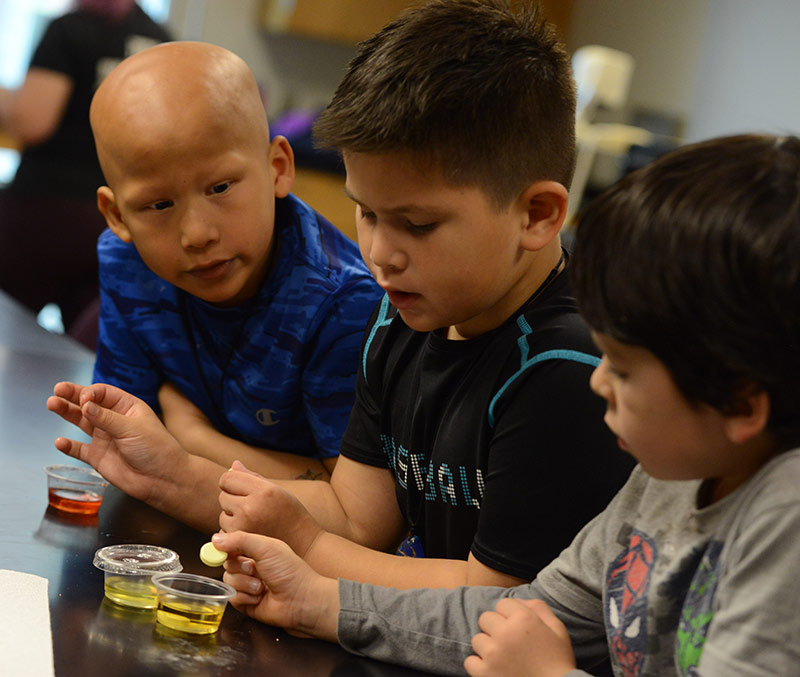 The College of Engineering's interactive Technology Experience Center (iTEC) has received funding to provide partial scholarships for students to attend iTEC downtown summer programs.
"We are thankful to our program sponsors, HEB and Rackspace, who have generously donated funds toward our 2017 Downtown summer camp program," said Roberta Luukkonen, K-12th S.T.E.A.M. program manager.
According to Luukkonen, scholarships will cover 50 percent of camp fees and will be awarded on a first-come, first-served basis to students who currently attend a school in one of the following school districts: San Antonio ISD, Edgewood ISD, Harlandale ISD, Southside ISD, Southwest ISD, Somerset ISD, Ft. Sam Houston ISD, Lackland ISD and East Central.
Scholarship awards are available for students who will be entering kinder up to 12th grade in fall 2017. Funds are limited and demand for camp is high, so qualifying for a scholarship does not guarantee a scholarship award.
---
COE staff member wins inaugural award from Graduate School
The College of Engineering's LiPing Bien, senior program coordinator for graduate programs, is one of the first recipients of the Graduate Excellence Award, a new honor given by the UTSA Graduate School. She was selected to receive the award for her contribution to sustaining a level of excellence in graduate education and the UTSA graduate student community. The award is presented to individuals who go above and beyond expectations to ensure that graduate students are supported and excel at every level.
Bien received her award at the Graduate Student Appreciation Week Awards Ceremony and Reception that took place earlier this spring semester.
---
COE professor creates chat-bots to promote healthy living
David Akopian, professor of electrical and computer engineering, and his team of talented students have created a series of automated messaging systems that can simulate human conversation, known as "chat-bots," with the intention of promoting smoking cessation and healthier living.
It's estimated that cigarette smoking kills 480,000 American every year, with smoking-related illnesses costing Americans more than $300 billion a year. Akopian believes the chat-bots could aid thousands of smokers all over Texas to quit smoking through guided communications.
"We're taking out the middleman," Akopian said. "Someone might pick up a pamphlet about smoking cessation or some other form of literature, but why give them the chance to just set it aside? This way, you're learning and getting answers and encouragement through conversation."
Akopian worked in collaboration with health promotion researchers at UT Health San Antonio, the University of Texas at Austin, the YMCA, and Kansas University to tailor messaging solutions for supporting healthy living.
One of his recent systems uses the automated smoking cessation protocol Quitxt, which was developed at UT Health San Antonio. The chat-bot is interactive and is able to engage in realistic conversations with people who are considering or who are in the process of quitting smoking. It provides support, tips, educational messages, music, and video links to help smokers quit.
Akopian is especially proud that the chat-bot is bilingual. It speaks English and Spanish, with the ability to expand into other languages. The project began gaining momentum after chat-bots were widely praised as being a leap forward in technology in several publications in 2016.
"We're now able to operate over various messaging channels, including plain texting and instant messaging channels similar to Facebook or WhatsApp messengers," he said.
The expanded platforms make it possible for Akopian and his collaborators to communicate with people in several ways. They've started integrating their solutions with Google and other popular environments to create even more avenues for people to use their chat-bots.
---
Professor's article featured on cover of prestigious journal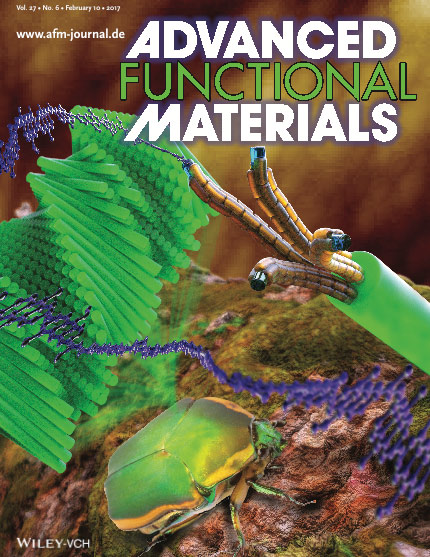 The article Exoskeletons: AFM Identification of Beetle Exocuticle: Bouligand Structure and Nanofiber Anisotropic Elastic Properties by Wei Gao, assistant professor in the Department of Mechanical Engineering, was featured on the February cover of Advanced Functional Materials, one of the top journals in materials research. In the piece, Gao and collaborators from Northwestern University, University of Nebraska-Lincoln, and University of California, Riverside, examined the design principles of helicoidal stacking in beetles.
---
USAA, UTSA explore possible collaborations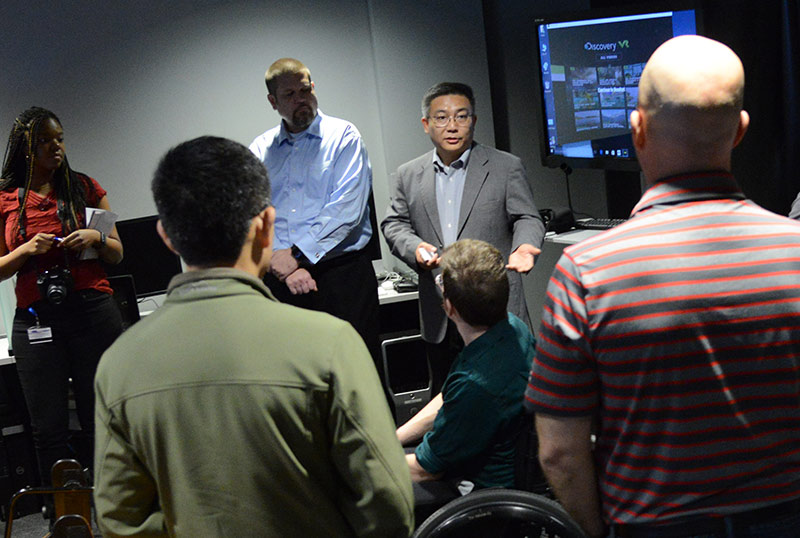 This spring semester, the UTSA Research Computing Support Group with the Office of Information Technology hosted a tour for the United Services Automobile Association (USAA) to explore potential collaboration in the areas of data analytics and visualization. USAA was invited by the UTSA Center for Simulation Visualization and Real-Time Prediction to initiate a collaborative effort. The tour involved USAA's Vice President of Enterprise Data & Analytics Michael Kozub, along with eight other USAA high-level executives. COE's Yusheng Feng led a tour of the SiViRT Center and VizLab, which were initially established through a National Science Foundation award in 2009.
---
New chip extends battery life of electronics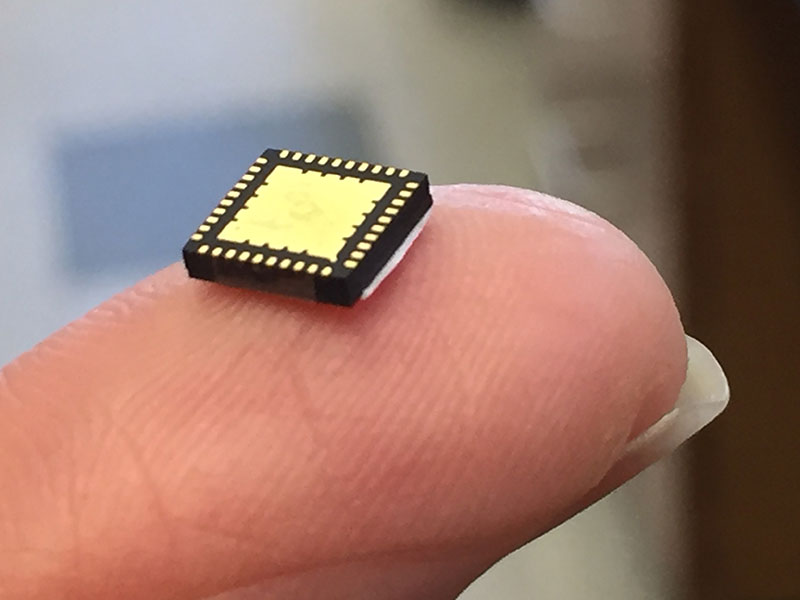 Ruyan Guo, Robert E. Clark Endowed Professor of Electrical and Computer Engineering at UTSA, has received a $50,000 I-Corps grant from the National Science Foundation to commercialize a chip that can make lower power electronics, like cell phones, work more efficiently.
Guo's team developed the technology, which is about the size of a pin's head, with UTSA researcher Shuza Binzaid in the UTSA Multifunctional Electronic Materials and Devices Research Laboratory alongside graduate student Avadhood Herlekar.
"The purpose of this grant is to better identify the commercial opportunities for technology created at universities," Guo said.
Guo and Binzaid are currently working with marketplace experts, as well as UTSA technology and IP management specialist Neal A. Guentzel, to understand the needs of consumers so they can determine which industry their chip is best suited for. It's an odd problem to have, since the device is applicable to several different uses, from every day electronics to medical apparatuses.
"This chip can be used with anything that runs on a battery," said Binzaid. "It manages power so that the device can last longer."
Cell phone users in desperate need of a charge, for example, put their devices on low power mode and reduce regular functions to extend the battery life. This chip, however, can keep a phone working at top functionality with much less power. Moreover, it facilitates the use of smaller batteries, since the object itself is so small.
The chip also tackles another common annoyance for electronics users: how hot devices get when they're being used for several minutes.
"The heat is a result of a lot of power being used," Guo said. "It's a nuisance, but with our device there is less power consumption, which means the heat will be much less of an issue."
Guo noted that as the "Internet of Things" becomes more integrated into the average person's daily life, battery power will continue to become a valuable resource. Beyond lower-power devices such as cell phones, the chip could be used in fire sensors, fitness monitors, and even medical apparatuses.
"We hope to make a significant leap forward in defibrillators and pacemakers," she said. "Invasive surgeries to replace medical devices that are running out of power could become much less frequent."
For now, Guo's team is focusing on developing the chip for customized sensors, with more possibilities on the horizon.
---
UTSA student-led team receives NSF grant to develop vein-finding medical device
A student-led team from UTSA is the beneficiary of a $50,000 grant to UTSA's Center for Innovation, Technology and Entrepreneurship (CITE) program from the National Science Foundation (NSF) to support the continued development of their infrared medical camera, InfraVein, which makes simple work of finding veins. As a result of the NSF I-Corps grant, the team headed to Boston this spring to test the business model of InfraVein and explore how to market the device.
"With this opportunity in Boston, I hope to experience how to interact with different customer segments and to use their feedback in order to develop our technology further," said Sanjiv Patel, a team member and masters student in biomedical engineering.
The students attended the NSF I-Corps seminar series, which supports the entrepreneurship that leads to the commercialization of technologies previously supported by NSF-funded research.
The original team of engineering and business undergraduate students included Kristen Hamalainen '16, Sanjiv Patel '16, Andrew Shiels '16, Kreg Zimmern '16, Rachel Loeffler '16, Cody Baker '16, Alexis Morales '16, and Ileana Gonzales '16. The group won the top prize at the CITE $100K Student Technology Venture Competition in spring 2016. The competition is a collaboration between the UTSA Colleges of Engineering and Business.
"It's always exciting to see students who succeeded at the competition continue growing their ideas and expanding their business," said Cory Hallam, director of CITE and UTSA's chief commercialization officer. "These are entrepreneurs who are getting their start as undergraduates, and this is just one of many examples of students taking advantage of a great opportunity and making the most of it."
The idea to create a device that could help medics locate veins came about while the biomedical engineering students were working on their senior design project. The idea to help military medics came about because San Antonio has a strong connection to the military.
---
UTSA, COE students flourish at the Undergraduate Research and Creative Inquiry Showcase
It is UTSA's largest annual show-and-tell. On April 20, more than 100 students from all disciplines presented their research and creative works at the fourth annual Undergraduate Research and Creative Inquiry Showcase, organized by the UTSA Office of Undergraduate Research (OUR). The showcase highlights interesting and engaging undergraduate research and creative endeavors.
Nearly 1,000 students and faculty attended to support one another.
Biomedical engineering student Grecia Gonzalez receives her award from Interim Vice President for Research Bernard Arulanandam.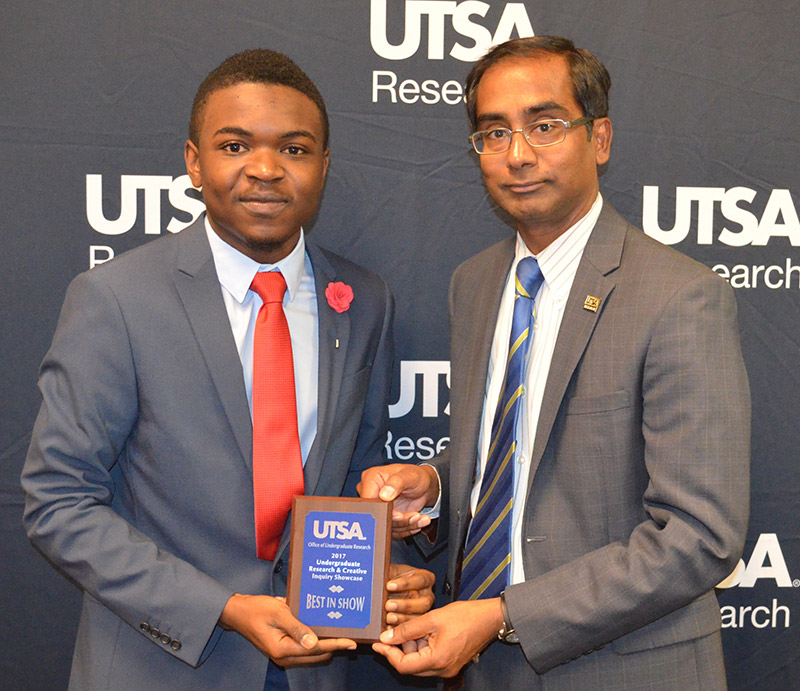 Electrical and computer engineering student Aires Ngunza receives his award from Interim Vice President for Research Bernard Arulanandam.
Mechanical engineering student Stephanie Meier receives her award from Interim Vice President for Research Bernard Arulanandam.
"Our mission is to give all UTSA undergraduates the opportunity to engage with a formal research experience, whether it's a lab placement, externship, scholarship or research opportunity, ideally in their first year," said Thomas Coyle, the new director of the UTSA Office of Undergraduate Research. "The showcase is a great introduction to undergraduate research at UTSA. We encourage all students to drop by and see what their peers are doing, get inspired, and get involved in research. We're here to help and facilitate those connections."
Three College of Engineering students were recognized as award winners at the showcase: biomedical engineering student Grecia Gonzalez for her research on the synthesis of silk scaffolds for biomaterial applications; electrical and computer engineering student Aires Ngunza for his research on creating polymer infiltration toughened hydroxyapatite biomaterial hybrids using bio-inspired materials design; and mechanical engineering student Stephanie Meier for her research on characterizing entrainment and mixing in density currents using flow visualization.
Faculty mentors play a critical role in the academic and professional development of student researchers. The Office of Undergraduate Research (OUR) recognized four faculty members who are exceptional mentors, including COE's Teja Guda, assistant professor of biomedical engineering. Guda has developed the undergraduate curriculum and manages the internship program for his department. He has also mentored two winning student-led CITE teams (2016 and 2015) and an NSF I-Corps student-led team.He also supervised nearly 30 undergraduates, many of them winning scholarships.
---
Goldwater Scholars Competition names UTSA awardees
Travis Kotzur, a UTSA Honors College and biomedical engineering student, has been awarded an honorable mention by the distinguished Barry M. Goldwater Scholarship and Excellence in Education Foundation.
"My education and experiences at UTSA have played a critical role in receiving this honor," said Kotzur. "If it was not for the enormous push for research and the huge assistance of the faculty, I never would have been prepared to apply for such an award."
The scholarship is widely considered the nation's most prestigious honor for undergraduate math and science students. Kotzur conducts research in UTSA Assistant Professor Brian Hermann's biology laboratory where they're studying a drug that could prevent infertility in cancer patients.
The Barry M. Goldwater Scholarship and Excellence in Education Foundation, named in honor of the late Arizona Sen. Barry Goldwater, awards scholarships in the amount of $7,500. These competitive scholarships are offered each year to 240 junior and senior undergraduates pursuing mathematics and science degrees across the U.S.
Peggy Goldwater Clay, chair of the foundation's Board of Trustees, announced that the Trustees awarded 240 scholarships for the 2017-18 academic year to undergraduate sophomores and juniors from the United States and 307 nominees were named Honorable Mentions. UTSA College of Science student Sara Dibrell was named a 2017 Goldwater Scholar, and COE student Cory Nguyen also received an Honorable Mention.
"To have all three of our applicants recognized is truly an amazing accomplishment," said Sean Kelly, dean of the UTSA Honors College. "This testifies to the great work of our students, the commitment of their advisers and mentors, and the high quality of our programs."
---
UTSA student org, Lackland Air Force team win competition
A little initiative can go a long way. The Advanced Robotics Club at UTSA found that out first hand when they began reaching out to the United States Air Force to assist in Science, Technology, Engineering, and Math (STEM) events. The collaboration ended up in a big win for both the student org and Joint Base San Antonio-Lackland when their team of Air Force professionals and engineering students won the Commander's Challenge, an annual Air Force competition focused on finding solutions for various real-world threats the military faces each year.
Robert Lucio, an electronics engineer in the Air Force, said it was the Advanced Robotics Club that first reached out to him about working together during STEM events.
"It was the president of the Advanced Robotics Club (Denise Guerra) who first contacted us," Lucio said. "She called and asked if students could volunteer to assist with Air Force STEM events. I've been working with these students for two and a half years now and that began through STEM work."
The hard work of the student volunteers impressed Lucio from the beginning.
"They built the trust we have in them," Lucio said. "They reached out and showed us they were reliable. They were up early on Saturdays when most people would rather be sleeping."
After the Advanced Robotics Club put on a successful outreach event with the help of the Air Force, Lucio decided to move the relationship with UTSA forward and invited the club to help Lackland Air Force Base compete in the Commander's Challenge. The challenge presents teams from six different Air Force bases with a scenario they need to design equipment for. The 2016 challenge was built around finding a way to safely bring down drones flying into base air space. With a budget of $50,000 and a timeframe of six months to complete the project, Lucio set out to find a way to get UTSA students involved.
We met with Dean Browning and let her know that there were students from the Advanced Robotics Club that wanted to get involved," said Lucio. "We assigned them to build a helper robot for the drone captures."
Lucio's team decided to use electronic warfare to take down the drones, as bullets could cause collateral damage. Once the drone was on the ground, the helper robot designed by UTSA students came into play. The team decided that sending in live personnel to extract the downed drones could be dangerous. The potential for chemical weapons or a bomb being attached to the drones was too great a risk to human life. So UTSA students set about designing a robot with a net gun that could be controlled via a tablet and could capture the drones.
Using a Raspberry Pi to power the robot, the students set out to design an app from scratch to control the robot. The tablet uses the app to run the motor control of the robot. The net gun is also powered from the tablet and can be fired by the user to capture the drone. Ultimately, the team with the UTSA students took 1st place.
While several clubs on campus are geared toward specific majors, the Advanced Robotics Club tries to recruit students from a variety of disciplines. Julian Salas, a computer engineering major and the vice president of the club, feels it's important to get students from a variety of majors involved.
"We have all kinds of members," Salas said. "We invite everybody, regardless of major, to come out. It's important because a computer science major may bring something to the table that a mechanical engineering major would not think of."
---
UTSA students gain valuable experience at Hackathon
Engineering students Ruben Asebedo, Patrick Stockton, and Kasai Omar attended the National Security Technology Accelerator (Hackathon) hosted by the MD5 division of the U.S. Department of Defense in the spring in Austin.
The team competed with 26 other teams comprised of engineers and scientists from around the U.S. Only 2 of the teams were made up of students. Participants designed a solution for Humanitarian Assistance and Disaster Relief challenges; and, in the end, the UTSA team was selected as one of the top nine finalists to present in front of a distinguished panel.
---
Office of Undergraduate Research Student Research Scholarships Awarded
The Office of Undergraduate Research (OUR) has awarded $1,000 scholarships to 10 students, including four engineering students, to conduct research with a UTSA mentor. The funds were disbursed at the end of the spring semester, when students had completed their projects.
Drishya Dahal
Mechanical Engineering
Trash Bot
Mentor: Pranav Bhounsule, Ph.D.
Roland Green
Electrical and Computer Engineering
Unique Architecture for Fast Multipliers
Mentor: Paul Morton, Ph.D.
Chinonso Ovuegbe
Mechanical Engineering
Aerodynamic Testing and Analysis of a Reconfigurable Unmanned Aerial Vehicle Mentor: Victor Maldonado, Ph.D.
Shicheng Zhou
Mechanical Engineering
How to Control a Simple Model of Legged Robot to not Fall Down under the Influence of a Disturbing Force
Mentor: Pranav Bhounsule, Ph.D.
---
UTSA Steel Bridge team wins Texas-Mexico regionals
Members of UTSA's American Society of Civil Engineers (ASCE) Steel Bridge Team practice constructing their steel bridge in the Biotechnology, Sciences and Engineering Building's atrium. They competed and placed 1st at the 2017 Texas-Mexico ASCE Student Symposium which took place this spring semester in El Paso, Texas.
In May, the team headed to the ASCE 2017 National Student Steel Bridge Competition in Oregon where they placed in the top 20 teams overall who competed from across the United States and Mexico.