Our People: Student Success
Graduating senior Alisa Isaac is an NSF Fellowship Recipient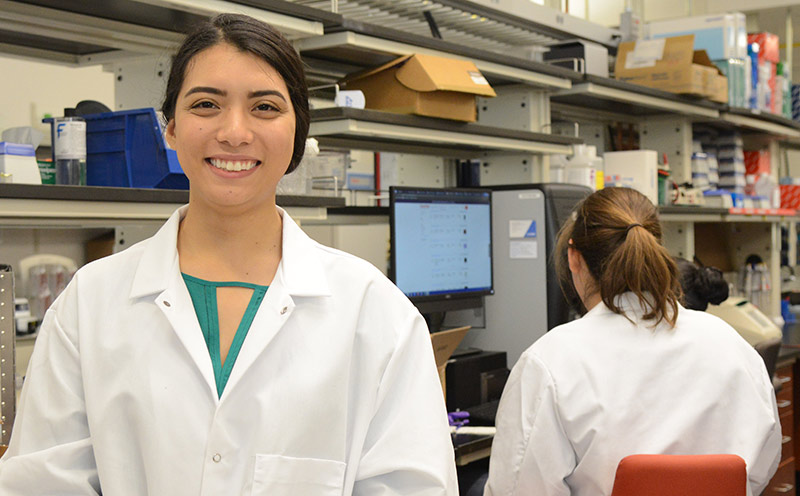 Meet Alisa Isaac. She is one of the two UTSA College of Engineering students who received a prestigious National Science Foundation (NSF) Graduate Research Fellowship. According to the NSF, this fellowship program nurtures innovation and leadership in the United States by recruiting and supporting outstanding students with high potential in science, technology, engineering, and mathematics.
"Not many undergraduate students are aware that the NSF Fellowship application is available before they are admitted into graduate school," said Isaac. "My sister Kameel (a Ph.D student at The University of Texas - Austin) told me to take advantage of this great opportunity and I am so glad I did."
Isaac's parents helped her with her personal essay for the fellowship, and they were extremely proud of her once they heard the news that she was one of the winners.
"I didn't think I was going to receive the fellowship because my GPA is not highly competitive," said Isaac. "But my family and co-workers at the Institute of Surgical Research (ISR) encouraged me to apply. I believe it's extremely important to apply to every scholarship that you qualify for, because you never really know what the committees may be looking for."
Isaac, a senior biomedical engineering student, was born and raised in Tokyo but moved quite a bit due to her father working for the Air Force. She has been living in San Antonio for 10 years and now calls it home.
Isaac was inspired to apply for the fellowship because the award could open many doors for her and help finance her research in biomaterials, applications in tissue engineering, and regenerative medicine. She hopes to make new discoveries in the biomedical field in her graduate work that will be supported by the fellowship that provides three years of financial support within a five-year fellowship period consisting of a $34,000 annual stipend and $12,000 cost-of-education allowance to the graduate institution.
Isaac enjoys her time at UTSA and is appreciative of the opportunities that come from being a student in the College of Engineering. She said that she notices many students take time off between their undergraduate and graduate degrees, but what keeps her going is the thought of completing her education.
"I don't want to be in a position where I regret not continuing my education, I'd rather push on through," she said.
Besides studying, Isaac also enjoys dancing (especially hip hop and jazz), traveling, and cooking. Isaac is involved with many organizations at UTSA: she is the president of Tau Beta Pi an engineering honor society, a UTSA Ambassador, and a member of Texas Angels which is a group of young women focused on empowerment, networking, and service. Additionally, Isaac is currently conducting research at an internship at the Institute of Surgical Research.
"I enjoy being able to be creative and analyze problems in the research environment," she said. "Being an intern at ISR, I walk through the hospital to reach the research center and along the way I see the injured soldiers for whom I conduct research for. That helps me get through my long days!"
Isaac says that her mentor, Christine Kowalczewski, aspires her every day with her positivity, especially in the lab. Kowalczewski helped prepare her for graduate school by teaching her lab techniques and how to create experiments to address medical problems, and she also helped proof read and hone her proposal for the fellowship.
Isaac said winning National Science Foundation Graduate Research Fellowship will make it much easier for her to follow her research interests after she completes her bachelor's degree at UTSA and she hopes that fellowship will open new doors that will make her stand out a little bit more from the other Ph.D. students when applying for future jobs.
"I appreciate that the NSF committee took the time to look through my essays and see the potential that I have." Isaac said. "They thoroughly read my essays and provided feedback, rather than having a GPA cut-off requirement. I am so thankful for this opportunity."
by Raul Tutiven/College of Engineering
---
Graduating senior Jasmine King is pursuing her Ph.D. dream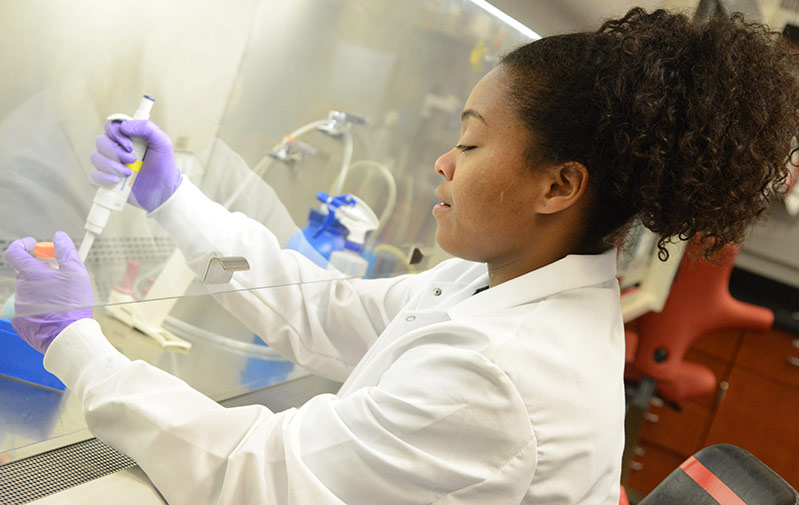 Meet Jasmine King. She's a talented basketball player who has applied her passion for sports to her quest to earn a Ph.D. She recently received a sought-after National Science Foundation Graduate Research Fellowship that will help her reach her higher educational goals.
A San Antonio native, King knew from a young age that she wanted to pursue higher education.
"I was always very passionate about learning," she said. "When I got older, I knew I wanted to go into the medical field, because I found it fascinating."
King considered pursuing a medical degree or a Ph.D., keeping in mind that, no matter what, she wanted to help others. Ultimately, she decided to pursue a research career so she could have a wider impact.
"Giving back to society is very near and dear to my heart," she said. "If we want to advance as a society, we have to be willing to help each other."
Initially, King studied mechanical engineering at Southern University and A&M College, a historically black university in Baton Rouge, Louisiana. While there, she also pursued her passion for sports and joined the basketball team.
After helping lead her team to a conference championship, she eventually came to realize she wanted to earn a biomedical engineering degree instead. After learning about UTSA's biomedical engineering program, she chose to transfer.
As a student in the UTSA Honors College, King found the curriculum to be challenging, but she enjoyed the support of her professors and fellow students as she adjusted. She was also struck by the diversity of UTSA's student body.
"UTSA really embraces diversity, and I've liked learning alongside people of so many different backgrounds," said King.
Unable to give up her love for basketball, King joined an intramural basketball team and led her teammates to three consecutive regional tournaments. Balancing her classes and career goals with her dedication to the team proved challenging, but it gave King a keen sense of discipline and time management.
"There's no greater lesson I can pass on to younger Roadrunners than to organize your life when you're in school and learn how to manage your time," she said. "It was a great lesson to learn as a student athlete, and I know that skill will serve me well going forward."
At UTSA, King joined the Maximizing Access to Research Careers – Undergraduate Student Training for Academic Research (MARC-U*STAR) program, which since 1981 has supported hundreds of financially disadvantaged and underrepresented minority students in their efforts to obtain a Ph.D. and pursue research careers.
"MARC-U*STAR is just one of the many programs that UTSA provides for support," King said. "I feel that UTSA's community is just very involved with their students. People are passionate about helping students find success."
Through the MARC-U*STAR program, King joined the laboratory of Teja Guda, assistant professor of biomedical engineering, whose research focuses on regenerative medicine and tissue engineering. She's been involved in several of Guda's research projects, but most notably she's aided him in developing his scaffolds, which are bone-mimicking materials designed to help heal bone fractures.
"What has really motivated my passion in science and engineering is the possibility to help people—not just one person, but many people," she said. "I want to be able to expand the knowledge of this field and help all people of all backgrounds."
King graduated this past spring from UTSA with her B.S. in biomedical engineering and the NSF Graduate Research Fellowship will help support her future studies. She is moving on to the University of California at Berkeley to accomplish her dream: earning her Ph.D.
"The learning involved with getting to that point is so exciting," she said. "The respect that comes along with earning my Ph.D. is also just as exhilarating. I know that once I get there, I'll have everything I need to excel in my career and have the impact I've always wanted to have."
By JoAnna Carver/University Communications and Marketing