2019 Building San Antonio: Dealmaker of the Year
May 9, 2019
San Antonio Business Journal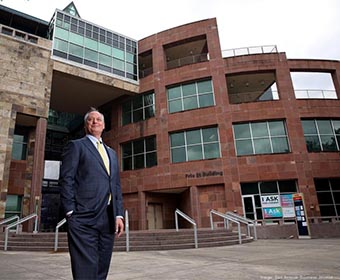 The University of Texas at San Antonio's $90 million plan to expand its downtown campus with the development of a National Security Collaboration Center and a School of Data Science will have a "defining" impact on the Alamo City institution — on a national level.
That's the expectation from San Antonio entrepreneur and Rackspace Hosting Inc. co-founder Graham Weston, whose $15 million commitment to the projects was critical in securing city, county and state support for UTSA President Taylor Eighmy's ambitious plan.
The downtown deal-making is more than a leap of faith by Eighmy, who was named the successor to long-time UTSA President Ricardo Romo in 2017. It's also representative of the level of support for an urban transformation that UTSA has inspired since his arrival.
Weston said when he and his team met with Eighmy about UTSA's plans for the National Security Collaboration Center and School of Data Science, there was a quick understanding of the impact these projects could have on the university and on San Antonio. For Eighmy's vision, ability to secure funding and collaboration with the city, county and University of Texas System regents, Eighmy has been named the 2019 Dealmaker of the Year as part of the Business Journal's Building San Antonio Awards.
"I was taken by his sense of ambition and by where he thought he could take UTSA," Weston said. "When he brought the ideas to us, we were in favor from the beginning. We immediately wanted to get on board."
Weston's financial contribution, his largest gift to date, has been critical in advancing UTSA's downtown plan. It's helped UTSA secure $70 million from the UT System regents and the transfer of several acres owned by the city of San Antonio and Bexar County needed to accommodate the campus expansion plan, which also includes a new College of Business.
"There were four different negotiations running in parallel. [Weston's] belief in all of this was the catalyst for all the other things that had to happen," Eighmy said. "His willingness to do this enabled my being able to convince the city, the county this was the right thing to do."
Weston's commitment also made it easier for UTSA leaders to negotiate with UT System officials for state funding.
"There is a cast of many people who made this happen," Eighmy said.