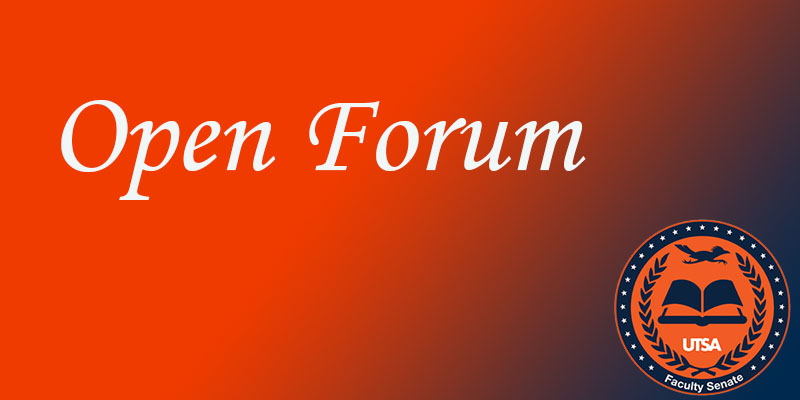 Interim President Pedro Reyes
Interim President Pedro Reyes introduced himself to the Faculty Senate. He said that he met with the executive committee recently to discuss areas of focus for UTSA. One of the issues discussed was the budget. He said that the university is losing funding due to SB1, which would specifically cut finding for special items. He said this type of funding is critical for UTSA, and that he is trying to convey the return on investment, pointing out that the money is put back into the state's economy in even greater numbers. Special funding items include TX prep, the Institute of Texan Cultures, the Small Business Development Center, etc. Dr. Reyes said that there could be as much as $25 million cut from UTSA's budget over the next biennium. With regard to policy, he said that the state is looking at whether or not to increase tuition, or attach it to some kind of metric such as graduation rates. Dr. Reyes said that there are about 6 bills related to sexual assault, a few of which are expected to reach the senate/house floors which are likely to have implications for higher education. He said that Hazlewood is costing UTSA $14 million, and that while there is a $50 million fund available, that is spread out over 35 institutions. This is something UTSA continues to address going forward. Finally, Dr. Reyes said that UTSA's Presidential search committee has finished with their work and has recommended 4-5 candidates to the Board of Regents. After board interviews in April, a final candidate will be selected. The candidate will have 30 days to make a decision before negotiating a start date at the university. Dr. Reyes stressed the importance of confidentiality in this process, but said he may be able to have the final candidate come to UTSA and meet with faculty. Dr. Reyes said that he is thankful for the opportunity to serve UTSA and encouraged anyone with questions or concerns to contact him.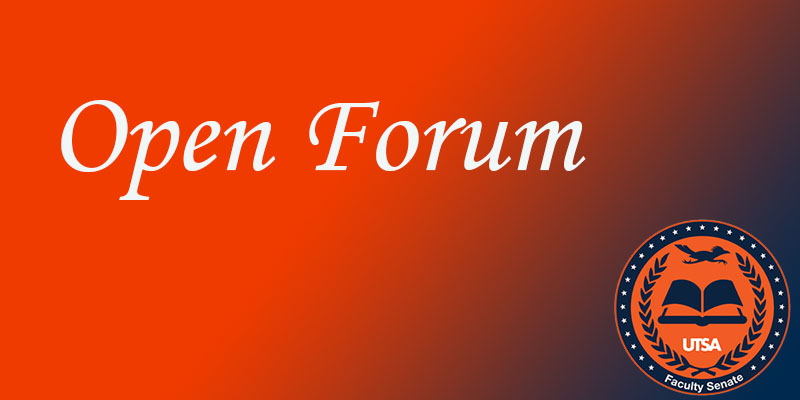 Edwin Barea-Rodriguez
Edwin Barea-Rodriguez said that on behalf of LaRazza faculty, an op-ed has been sent to the media regarding the lack of minority representation on the Presidential search committee. The editorial also addresses the fact that the search is closed to faculty, restricting them from providing input. He said LaRazza is concerned about UTSA's current three interim positions in upper administration and believes that new representation is needed. Dr. Barea-Rodriguez said to contact him with any questions or concerns.