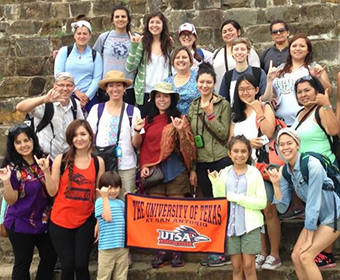 (Jan. 12, 2018) -- Students at the University of Texas at San Antonio (UTSA) are learning to become world-ready citizens. The UTSA Education Abroad Services office is helping by introducing Roadrunners to international academic possibilities at the Study Abroad Fair from 11 a.m. to 2 p.m. on Thursday, Jan. 18 at Sombrilla Plaza on the UTSA Main Campus.    
More than 20 third-party organizations and foreign universities will join UTSA faculty and Education Abroad Services to share with students all of the study abroad opportunities that are available to them. Students who have already studied abroad will also share how the experiences have impacted their lives.
"The fair is the perfect introduction to study abroad," said Brandon Lanners, director of UTSA Education Abroad. "Students can visit tables, ask questions and hear people's stories from around the world. Most importantly, they can get excited about all the possibilities. Then, we'll work with them to make living and studying in a different country a reality."
Since 2013, UTSA study abroad participation has almost doubled – to nearly 650 students in 2016-2017. During the last academic year, UTSA had 33 faculty-led programs in locations around the globe and across majors that supported 470 students' dreams of a global education. Many programs cost the same as studying at UTSA. The Study Abroad office works closely with Financial Aid to ensure studying abroad is accessible to anyone. UTSA also awards around $150,000 each year in study abroad scholarships.
"As we mold our students to become competitive in a global workforce, we see the benefits of studying abroad here on campus as well," said René Zenteno, UTSA vice provost for International Initiatives. "Research has shown that students who study abroad have a nearly 18 percent higher four-year graduation rate. Studying abroad is a critical component to creating world-engaged students."
After the fair, students can attend one of the weekly First Steps meetings, where Education Abroad staff help students pick their program and walk through the application process. Students can also take advantage of walk-in advising hours and individual appointments at the office. Students are encouraged to follow @UTSAEducationAbroad on Facebook for details on the First Steps meetings and office hours.