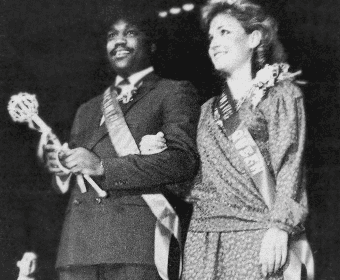 Editor's note: This article was originally published in Sombrilla Magazine, Spring/Summer 2015.
(May 10, 2019) -- Wayne Terry '85 and Trish DeBerry were named Mr. and Ms. UTSA in 1985 at the university's inaugural homecoming ceremony. Since there was no football team during that era, the Alumni Association chose basketball season for the event. The pair were crowned on the court of the Convocation Center, where the ceremony was held at a men's game.
Active in Lambda Chi Alpha, elected as student body president, and involved in the university program council, Terry says no one really knew what to expect with events planning. Would activities be welcome? Would people show up?
"I remember it being very exciting for us," DeBerry says. "We saw the work as a step in the right direction."
DeBerry remains active with UTSA and is a former Development Board member, while Terry was named Alumnus of the Year in 2012.
>> Read the rest of this story and relive other memories from UTSA's history as we celebrate UTSA's 50th Anniversary.