September 25, 2019
6:00PM
Please join us to celebrate the rich history and five decades of extraordinary successes at UTSA with the 50th Anniversary Golden Gala. This signature event will bring together alumni, donors and friends of the university to help fundraise for student scholarships while celebrating our students, faculty and the vibrant future of UTSA.
So join in the celebration. Now and forever, we are Roadrunners.
HONORARY CHAIRS
Rad and Ashley Weaver
Judge Nelson and Tracy Wolff
EVENT CHAIRS
Iñigo '05 and Iliana '03 Arzac
Carla and John Brozovich
AJ '98, '00 and Estelle Rodriguez
DEVELOPMENT BOARD LEADERSHIP
Cathy Obriotti Green, Chair
Don Frost, Vice Chair
UTSA LEADERSHIP
Taylor and Peggy Eighmy,
President and First Lady of UTSA
John and Claire Alexander
April Ancira '03 and Jason Thompson
Michael '86 and Lisa Anderson
James '96 and DeAnna Bodenstedt
Mary Rose Brown
T. Ruth Chang '95
Gene and Claire Dawson
Sam and Laura Dawson
Trish DeBerry
William Di Filippo '91 '11
John '94 and Karen '10 Engates
Marjie and Ed French
Artie '98 and Heather Garcia
Lorenzo Gomez
Stewart '84 and Annette '88 Goodson
Jim and Suzanne Goudge
Norman Jacobson
Dan '97 '01 and Heather Karam
Clay '83 and Cathy Killinger
Steve and Jean Lee
John McFall '92 and Gayle Graliam
Sonya Medina Williams and Gene Williams
Lew and Laura Moorman
Phillip Morales '08
Tim '97 and Jennifer Morrow
Cruz '00 and Oliva Ortiz
Andrew '91 and Nancy '93 '95 Ozuna
Jim and Katie Reed
Juan Ruiz-Healy and Dr. Patricia Ruiz-Healy '05
Martin '94 and Rebecca '00 '11 Salinas
Andrew '03 and Christie Waterman
Bob '74 and Suzanne Watson
This event is currently sold out.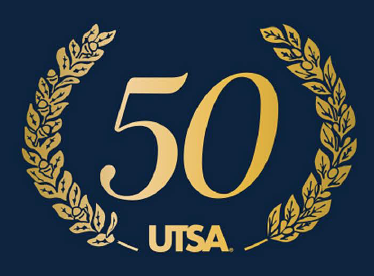 Golden Gala presented by MUY! Pizza Hut and Wendy's
---
Platinum Sponsors
---
Diamond Sponsors
---
Gold Sponsors
---
Silver Sponsors
---
Gala Contributors