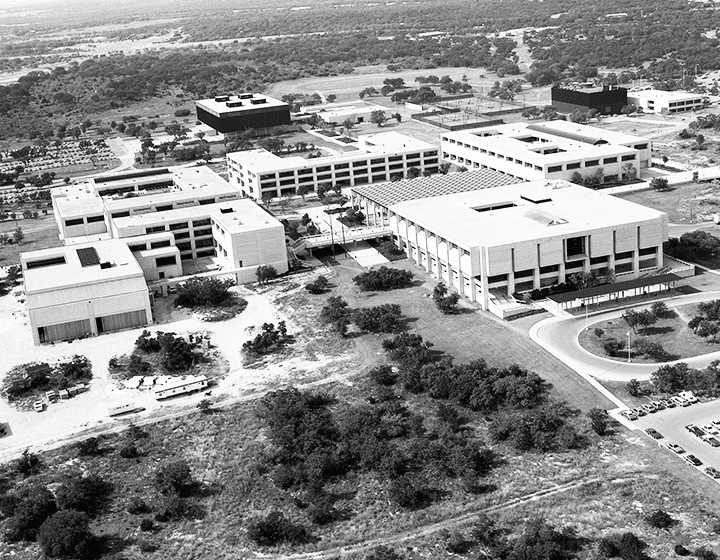 UTSA's architects explain how they envision the university's future
Designing Men
UTSA's architects explain how they envision the university's future
[ This article was originally published in UTSA newsletter The Discourse in January 1974 ]
O'neil Ford sat behind a table in the overfilled front room of the restored Victoria home on King William Street that is the office of Ford, Powell, and Carson. He spoke distinctly—and rapidly—with flamboyant gestures and a great deal of concentration. He paused occasionally to take a puff on his cigar.
He was a different sort of man. He worked strange hours. He wore offbeat clothes. He devoured books on architectural history. If one had not already guessed that he was an artist, his temperament provided the final clue. To Ford, architecture is an art—"the art of building spaces which are to be used—and doing it tastefully, decently, and with a strong idea."
Ford talked enthusiastically with architect Milton Babbitt about the UTSA campus—how its focus on a plaza is much like that of many old European cities, about the simple buildings made from native materials and about students studying under the oak trees.
"I do not want to know 'how to have a satisfied client.' I want an ecstatic one," Ford wrote in a chapter in a book called The People's Architects. He saw the UTSA campus as an opportunity to make thousands of graduate and undergraduate students ecstatic.
Supervising Architects
On the other side of town in a meticulously arranged, plant-draped office overlooking north San Antonio, another veteran architect was discussing the UTSA campus. Bartlett Cocke spoke quietly and evenly. It was a routine session between Cocke and a young architect named Carlos Jones.
Bartlett Cocke and Associates is the other half of the UTSA architectural team; they are the supervising architects and the generators of detailed plans, blueprints, and specifications.
In 1971 Bartlett Cocke and Associates supervised 13 firms, involving over 100 engineers, architects, and draftsmen, who worked together during the peak periods of plan production to complete the drawings for the seven buildings in the university's first construction phase.
Cocke and his architects also work closely with the building contractor and the UT System's Office of Facilities Planning and Construction.
UTSA's two architectural firms have dissimilar styles and approaches to architecture. "The two firms complement each other," said Cocke.
In 1949 Cocke and Ford began their first joint assignment as the Trinity University architects. It was the beginning of a productive collaboration that won a half dozen architectural awards for the Stadium Drive campus.
A Picturesque Village
UTSA is the largest new university now under construction in the United States. Ford is determined it will have the charm and grace of a picturesque European village. There will be no traffic within the bounds or the building area. Students will park on the perimeter and walk along the flower-lined paseos, up the rise, to the simple buildings and the central plaza.
"This is one of the few situations where an architect has had an opportunity to reasonably anticipate what the university will be and plan for an orderly growth," said Ford.
The university has plenty of room to spread out—600 acres—but early in the concept stages administrators and architects agreed it would be wiser to design a compact campus. Rather than a number of small, scattered buildings, they chose to build seven large structures in close proximity, leaving the surrounding acres of woodland as a park-like buffer zone between the campus and the inevitable development around it.
"Even when buildings are added in later construction phases, students will be able to walk from one class to another in eight minutes," said UTSA President Peter T. Flawn.
Because the structures are large, gallerias have been designed to handle pedestrian traffic within the buildings. The glass roofs above these areas will bring in light and give the buildings an open, airy atmosphere.
The buildings are of Texas concrete—a material that is as native to the Southwest as brick or stone. Much to the architects' delight, a new concrete is being used—one that is a soft beige color, rather than gray.
Three classroom buildings and the Library-Administration Building have been strategically placed around the plaza.
"As much thought went into planning of open spaces as into planning of the buildings," said Ford.
The plaza is especially important, for it is here that he envisions student meetings, evening concerts, and San Antonio–style fiestas. The plaza is the heart of the university.
"This meeting area will become more defined as additional buildings go up in later construction phases," Ford commented. "It will be large enough so students will not feel confined between the buildings but small enough to give a feeling of place."
The plaza will include a patio with skylight roof, clusters of benches and tables, and landscaped terraces.
Landscaping Details
Students have been considered in planning even the smallest details.
"Landscaping plans call for live oak trees so students can sit in the shade in summer and deciduous red oaks so they can sit in the sun in winter," said Babbitt.
While the UTSA campus will be aesthetically pleasing, it is also practical, from the noneroding glass pipes for the chemistry labs to the versatile convocation building, where both athletic and cultural events will be held.
The buildings have been designed with underground truckways so that supplies and equipment can be unloaded without blocking pedestrian traffic. Carefully planned tunnels house the easy-to-maintain mechanical and electrical systems.
"When the campus is in operation, it will be possible to monitor these systems by computer," said Cocke.
Presently a computer is being used to determine construction progress. The project, according to Jones, is approximately 41% complete. Construction on the $42 million campus began in May 1972 and is scheduled for completion in 1975.
Amidst the cactus and mesquite of the Texas foothills, an educational city, in many ways reminiscent of a European village, will be comfortably at home.
---