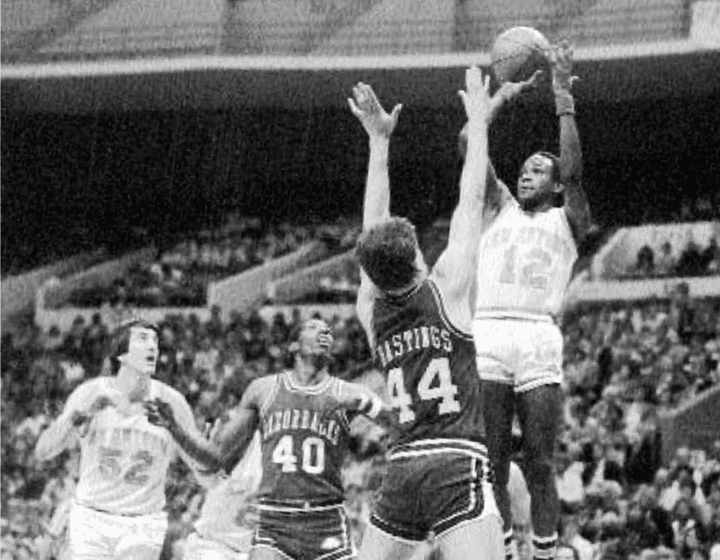 Robert Wallace (12) takes a shot in the Roadrunners' inaugural basketball game, against Arkansas in November 1981. Mike Gray (52) gets in position for a rebound.
The Big Shots
Men's basketball becomes UTSA's first NCAA athletics competition
[ This article was originally published in Sombrilla Magazine, Winter 2001 ]
On November 30, 1981, UTSA's men's basketball team gave the Arkansas Razorbacks a run for their money. It was the Roadrunners' first game—ever. The second half wasn't pretty, though, and it ended in a 71–42 loss for the 'Runners.
The NCAA Division I independent played formidable opponents like Texas Tech, Texas Christian, UT El Paso, Houston, and Rice that season. They played some games at the Convocation Center and some at the former home of the San Antonio Spurs, HemisFair Arena, which has since been replaced by the S.A. Convention Center expansion.
It was a mad schedule, but the Roadrunners were a new team, and games can be hard for independents to come by. They ended the season 8–19.
Don Eddy was head coach, and Nevil Shed was assistant coach. Amid a team of players recruited from junior colleges, two freshmen bear mention.
San Antonian Robert Wallace (12), who racked up 571 career points at UTSA, went on to play for the Harlem Globetrotters under the name Skywalker, as in Robert "Skywalker" Wallace. That's because he could hover at the rim. Rick Nixon, UTSA's assistant athletic director for media relations, says the 6-foot-1 player could jump so high that his head was level with it.
The other freshman, Ike Thornton, from Indianapolis, scored 1,064 career points at UTSA and is ranked eighth on the Roadrunner scoring list.
In the years since, the Roadrunners have been to the NCAA tournament twice (in 1988 and 1999), the Convo's tarton floor (easy to clean but hell on the players' knees) has been replaced with benevolent wood, and the Roadrunners have graduated from independent status to the Trans America Athletic Conference to, in 1991, the Southland Conference.
They still play host to madness. This March [2001] UTSA hosts the NCAA tourney for the third time—the Men's Midwest Regional at the Alamodome.
---
UPDATE
As of January 2019, Ike Thornton's 1,064 points place him 13th on the all-time scoring list.
The UTSA Roadrunners joined Conference USA in 2013.
The men's team also made it to the NCAA tournament in 2004 and 2011.
---