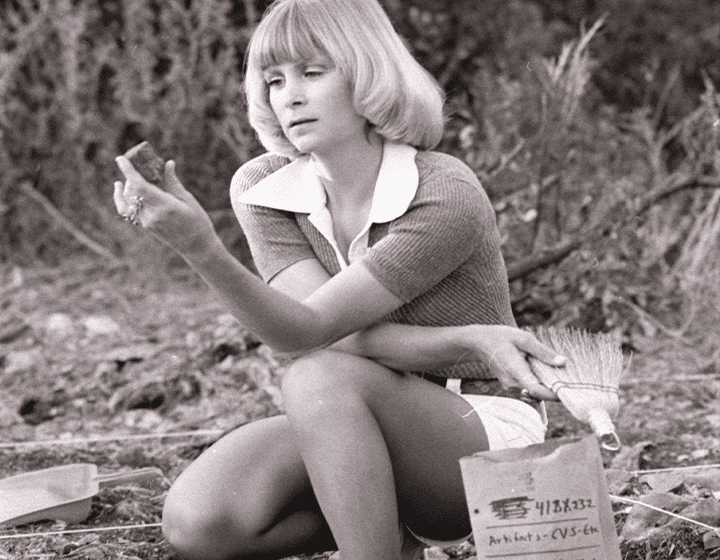 Student Vicki Holloway analyzes an artifact found at the first archaeological dig on Main Campus in November 1975. The excavated site was near the intersection of UTSA Boulevard and Regency Boulevard, which later became Valero Way.
Digging Up History
Students learn about early local Indians during the first archaeological excavation on Main Campus
[ This article was originally published in UTSA newsletter The Discourse in November 1975 ]
Twelve UTSA anthropology students gained practical experience in archaeological field work as well as insight into past cultures in a dig on the university campus November 3–10.
The excavation was near the corner of UTSA and Regency boulevards.
The students are members of a class taught by Joel Gunn, UTSA assistant professor of anthropology. In cooperation with Thomas Hester, director of the UTSA Center for Archaeological Research, Gunn initiated a problem-oriented approach that enabled his students to explore a prehistoric burned rock midden site.
The midden, or refuse heap, extends above the surface. The students found remnants of cooking fires, stone tools used for chipping and scraping, and other artifacts indicating the uses of the midden and the lifestyle of the inhabitants, believed to be early Tonkawa Indians, according to Gunn.
Previous archaeological work in the area has identified artifacts dating back to approximately A.D. 1000, indicating occupation in late archaic times.
Developed as part of the anthropological inquiry course, the project gave undergraduates training in excavation, interpretation, and recording techniques, Gunn said.
The students also reviewed surface features of the area, including its ecology, water resources, soils, plant and animal life, and geology.
The investigation helped the students to understand the habitat and resources of the Tonkawa-like people who lived in this area more than 1,200 years ago.
Participating students were David Ayon, Thomas Dias, Mary Ellen Hargis, Vicki Holloway, Bob Lauderdale, Dan Lopez, Royce Ann Mahula, Evan O'Hara, Sharon Quirk, Dan Rogers, Kay Simpson, and Dena Stoner.
---