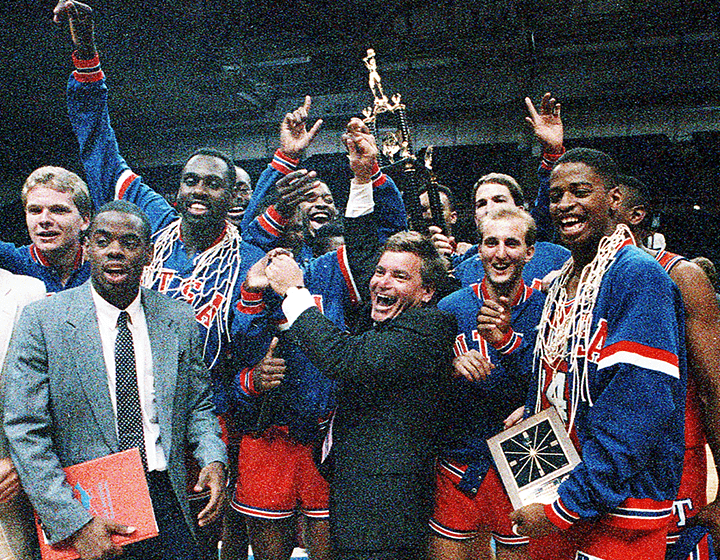 The Roadrunners celebrate their championship win at the Trans America tournament on March 12, 1988.
You've Got to Believe
Men's basketball team makes its first NCAA postseason tournament
[ This article was originally published in The Roadrunner, March 28, 1988 ]
Skeptics became believers when the UTSA Roadrunners made their first trip to the NCAA postseason tournament, after coolly defeating three opponents in their conference tourney.
But Roadrunner fans must keep the faith, at least until next season. The team ended the year by losing to a powerful Illinois team in the NCAA tournament's first round.
The team's victories inspired fans who jammed the Roadrunner Roost to watch the March 18 game against Illinois. And at a pep rally earlier that week, team members reminded fans, "You've got to believe."
To help convince some of the skeptics, the Roadrunners spent the season setting records in points, rebounds, and overtime victories. Frank Hampton (24), a senior and one of the team's captains, was named the conference tourney's most valuable player. Clarence McGee, the other captain, grabbed 272 rebounds this season, a UTSA record. The team's closing record of 22–9 is its best.
---
UPDATE
The Roadrunners made it to the NCAA postseason tournament by grabbing the championship of the Trans America Athletic Conference tournament on March 12, 1988, in a 76–69 overtime defeat of Georgia Southern.
UTSA's Frank Hampton (24) was named tournament MVP.
---