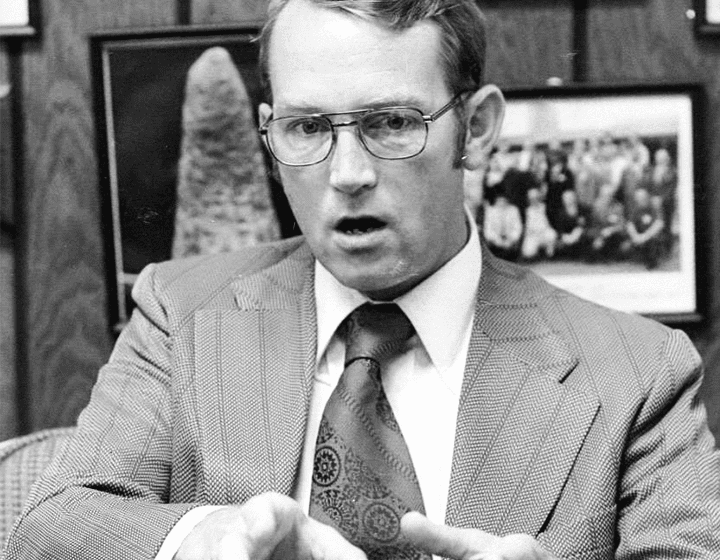 E.D. "Doug" Hodo, the founding dean of UTSA's College of Business, which received the endowment.
First Endowed Chair
A bequest from a San Antonio builder will enhance business program
[ This article was originally published in the UTSA newsletter The Roadrunner on February 25, 1985 ]
UTSA's first endowed chair was approved February 14, 1985, when the UT Sytem Board of Regents accepted gifts and pledges of $500,000 to found the Elmo James Burke Jr. Chair in Management of Building/Development in the College of Business. The endowment was made in memory of Elmo James Burke Jr., an attorney and prominent home builder in San Antonio until his death in 1983.
"The establishment of this first endowed chair is an important and historic event for UTSA," says President James Wagener. "We are honored to be the beneficiary of this tribute to Mr. Burke. This chair will ensure that his commitment to excellence in the business of building and in higher education will be well represented by UTSA students."
The major contribution is being made by Mrs. Elmo Burke. Other gifts and pledges include $106,550 from Burke's friends and colleagues in the Greater San Antonio Builders Association and the National Association of Home Builders.
The chair will provide strong leadership for students pursuing the bachelor of business administration degree in management with a concentration in building and development. "This program offers business students a unique opportunity," says E.D. "Doug" Hodo, dean of the College of Business. "The only one of its kind in the United States, the program allows business students to pursue coursework in engineering and architecture while studying light construction—the building of single- and multi-family residences and small commercial projects, such as strip shopping centers."
Burke, for whom the chair was named, received his B.A. degree from the University of Houston and his L.L.B. degree at The University of Texas Law School. The former major in the U.S. Marine Reserves practiced law in San Antonio in the late 1940s. By 1951, after joining his father's building business, he was elected president of the Greater San Antonio Builders Association. He also served as president of the National Association of Home Builders (1961) and was inducted into the Housing Hall of Fame in 1979. Burke's professional philosophy was dedicated to building quality homes at a reasonable price.
---