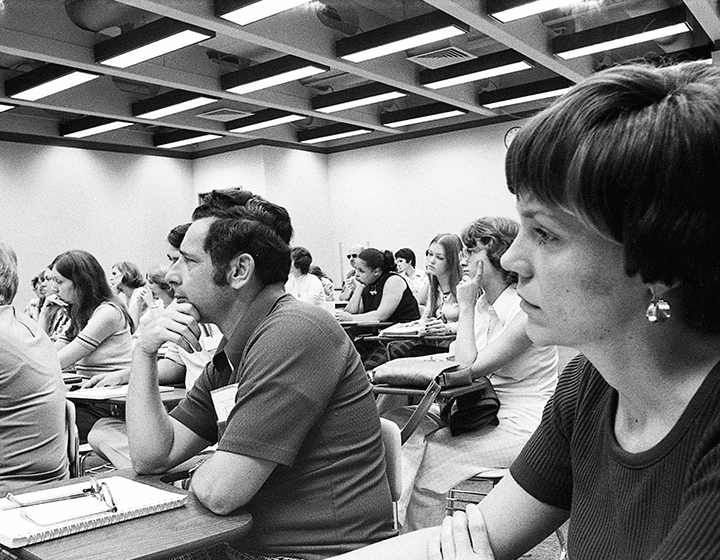 UTSA's large nontraditional student profile in its early years led to the creation of a special academic program.
Metropolitan University
Specialized educational needs are a prime consideration in planning UTSA's programs
[ This article was originally published in the UTSA newsletter The Discourse in August 1973 ]
Four times a week Carlos Sada fights the afternoon freeway traffic to take a 5:30 class in history of the Spanish language at UTSA. The 31-year-old Sada is a staffing specialist for the U.S. Civil Service Commission. The rush-hour traffic is an inconvenience, he admits, but he considers it inconsequential when compared to the opportunity to work on a master's degree.
UTSA is geared for students like Sada. The realization that a city of 800,000 has citizens who have specialized educational needs and who must attend classes under special circumstances has been a prime consideration in planning the university's programs.
"Because UTSA is a metropolitan university, 11 must serve a varied group of people with a broad range of needs and ambitions," President Peter T. Flawn says.
Many of the graduate students at UTSA are part-time students who plan their class schedules around their jobs. As a result, 102 of the 110 courses that UTSA will conduct this fall at facilities in the Koger Center or at the UT Health Science Center are offered in the late afternoon or evening or on Saturdays. In addition, UTSA will offer 10 courses at Randolph, Kelly, and Lackland Air Force Bases.
While many of the students at UTSA have very specific career goals, others, including housewives, retired military personnel, and senior citizens, enroll in courses for intellectual enrichment. "Many of our graduate students are seeking to add a new intellectual dimension to their lives," Flawn says.
UTSA plans an active, self-supporting continuing education program that will offer lectures, seminars, and workshops on topics in which community and civic groups express an interest. The Division of Continuing Education's first lecture series, titled Mexican Art and Culture Through the Ages, and cosponsored by the San Antonio Museum Association, will begin October 23.
The UTSA Institute of Texan Cultures also offers workshops and seminars. The institute, located in downtown San Antonio, is vital to the university in its contacts with the community and the many ethnic groups that make up its population.
The benefits that can accrue to a metropolitan university are many. Students will be able to participate in internship programs, for example. And there are opportunities for joint research and cooperative projects with other San Antonio institutions.
Flawn notes that because many educators find the cultural aspects of the nation's 11th largest city appealing, there are advantages for UTSA in recruiting faculty. He also says that adjunct professors who are professionally employed in the community and teach part-time will add breadth to the faculty.
UTSA is not an ivory tower university. Bicultural-bilingual studies, English as a second language, business, education, mathematics and systems design, and environmental management are among the programs that reflect the university's community-oriented, metropolitan philosophy.
---