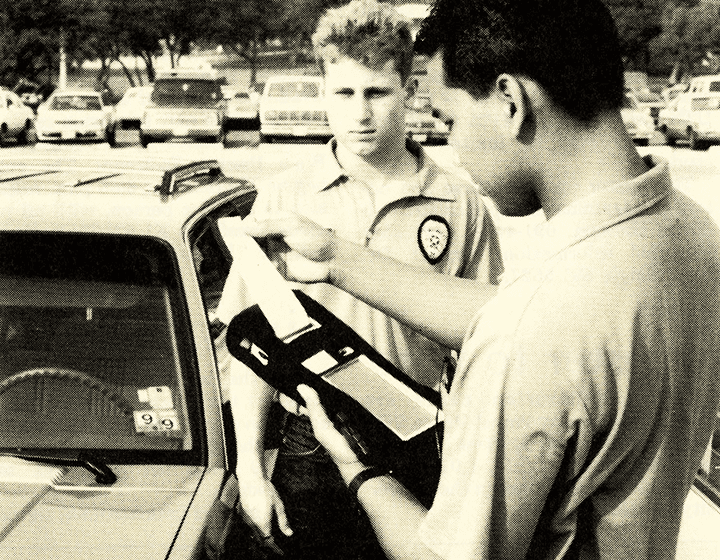 Student traffic controller Jimmy Canlas, along with fellow student controller Duane Brown, uses one of the computers to ticket an illegally parked car.
Enforcement Goes High-tech
Starting in the late 1980s new tickets written on campus would resemble cash-register receipts
[ This article was originally published in the UTSA newsletter The Roadrunner, September 19, 1988 ]
The bright orange envelopes tucked under the windshield wipers of illegally parked cars on the UTSA campus are a message to problem parkers. Students who try to sneak into reserved areas or staff members who covet a student slot may be among the first to receive a new kind of parking ticket.
This year [1988], the campus police department's ticket writers have been given a new tool—portable computer ticket writers. However, the university police department's move into the computer age of ticket writing does not mean police will be issuing more tickets, according to Chief Manuel Chavez. "We'll write about the same amount of tickets," he says, "but we'll eliminate a lot of manual entry into the computer system."
The portable computers also will help officers track down stolen parking permits as well as stolen cars. Information on missing cars and permits is added to the computers daily, enabling officers to quickly check permit and license numbers against those on their stolen property lists, Chavez says. The computer also will make it easier to keep tabs on repeat offenders, particularly those who regularly park on campus but have no permit or those who regularly park illegally and have not paid their fines.
Many of the tickets will be issued by student employees of the police department, freeing officers to concentrate on moving violations.
Other schools like UT Austin and Southern Methodist have used the computers and been pleased with their performance, the chief says.
The computer-generated tickets resemble cash register receipts and include information about your vehicle, the violation, and the date and time of the offense.
---