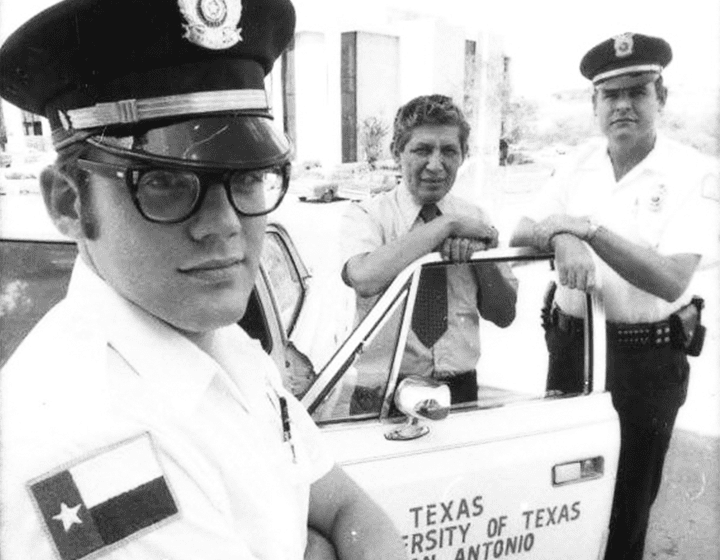 Officers Douglas Mursch and Kenneth English flank their supervisor, UTSA Chief of Police Manuel C. Chavez.
On Patrol
University's police operations begin to expand with opening of classes
[ This article was originally published in the UTSA newsletter The Discourse in July 1973 ]
UTSA has had 24-hour security service since July 1, 1973. Four patrolmen—Kenneth English, Douglas Mursch, Robert McLeod, and Robert Bier—protect UTSA students, faculty, staff, and property.
"All applicants for patrolman must meet UT System requirements," says Chief of Police Manuel C. Chavez. "Patrolmen must have 30 hours of college credit, be in good health, and be at least 5 feet 7 inches tall. In addition, their background and references, which are carefully checked, must be excellent."
UTSA patrolmen will attend a 10-week course at the UT System Police Academy in Austin. Classes include criminal law, Board of Regents policies and rules, education code, firearms, defensive tactics, and physical training. Upon completion of the course the patrolmen will be commissioned by the secretary of the Board of Regents.
Besides supervising the university's security service, Chavez, who joined UTSA in April, is devising procedures for emergencies and natural disasters. His duties also include advising offices of the university on security measures for their area of activity. He also works with local, state, and federal police.
Chavez is a veteran police officer with 17 years' experience in law enforcement. He has served as a patrolman and as lieutenant of detectives at Harlingen and was chief of police at Pharr at the time of his appointment at UTSA. He is a graduate of the FBI National Academy and is a member of the Texas Police Chiefs Association. In 1964 he was named Outstanding Young Man of the Year in Harlingen."
Chavez says the goal of the university police is "to maintain a peaceful academic environment."
---