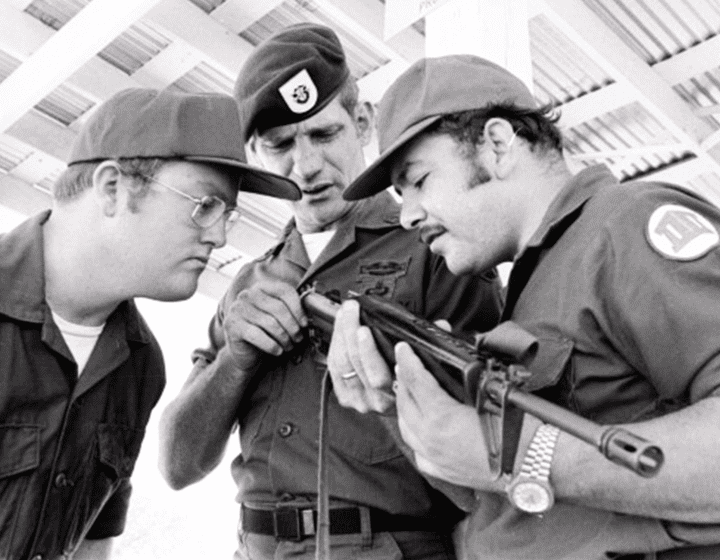 Green Beret M.Sgt. William Cornish instructs Howard Chamber, a St. Mary's student, and UTSA student Ramon Garza on use of a firearm.
Students Join Ranks
Roadrunners can now join ROTC program through collaborative endeavor
[ This article was originally published in the UTSA newsletter The Discourse in October 1975 ]
Four UTSA students are participating in the St. Mary's University Army Reserve Officers Training Corps program as the result of a recent cross-enrollment agreement between the two institutions. This is the first semester [fall 1975] ROTC has been offered at UTSA.
The UTSA students are part of the St. Mary's cadet corps, made up of students from St. Mary's, Incarnate Word College, Our Lady of the Lake University, San Antonio College, and UTSA. The ROTC classes are taught by the St. Mary's military science faculty.
In addition to regular classroom instruction, the ROTC students have participated this fall in a rappelling techniques session and in a rifle and pistol firing orientation at Camp Bullis.
UTSA student Ramon Garza is also participating in the Marian Guard Ranger Platoon, a voluntary St. Mary's ROTC program that provides intensive leadership training for the future officers.
---