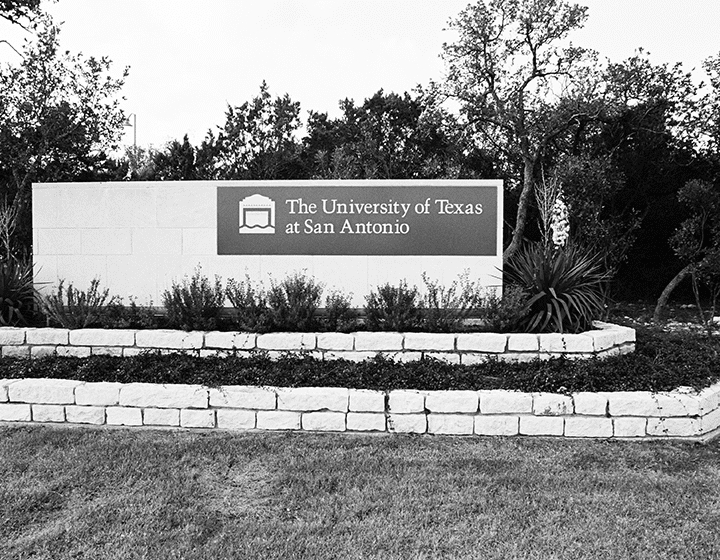 A campus marker with an old UTSA logo stands at the university's entrance.
On the Map
The UT System Board of Regents select a final site to build the new UTSA campus
Just a week shy of the one-year anniversary of Texas' governor signing the bill that created UTSA, the UT System regents were set to meet to designate a site for the university to be.
The site search had actually begun nearly two years earlier—well before the official creation of the new institution. During the seven months prior to the upcoming May 29, 1970, meeting, UT system inspection teams had made on-site studies of a dozen locations around greater San Antonio. Their efforts allowed a selection committee to narrow the choices to three finalists that would provide at least 500 acres and whose owners were willing to donate their land to the state for the new university:
West Side: A parcel just outside Loop 410 in west San Antonio that was bounded on its northwestern border by Potranco Road, its northeastern border by Culebra Road, its southeastern border by Loop 410, and its southwestern border by W. Military Drive.
South Side: A parcel inside Loop 410 in south San Antonio that was bounded on its southern border by the loop, its western border by I-37, its northern border by S.E. Military Drive, and its eastern border by W.W. White Road.
Northwest Side: A parcel of land inside Loop 1604 (FM 1604 at the time) near its intersection with Interstate 10 on the city's far northwest side—the site ultimately selected. The location was the unanimous recommendation of the site selection committee.
To help show off each site's potential, UT System staff created configurations that would map out potential campus development in each location in exacting detail.
With the location secured, UTSA President Arleigh Templeton promised that the forthcoming campus would fit "the general culture" of the San Antonio area. In fact, the San Antonio Express and News wrote in its May 31, 1970, edition:
Templeton said that the eventual design must be created by "somebody that understands the San Antonio area, San Antonio architecture, and the general culture of the area."
Told that John Peace, UT regent from San Antonio, had expressed hopes that the architect could design a campus that is "indigenous," Templeton replied: "I'm going to see that it does, or we're going to do it over. I've got my whole life in this thing, and I don't intend for it to be a mess."
In an opinion article in its May 30 edition, San Antonio Express and News editors said, "The decision is historic. It sets long-range growth patterns in important ways. San Antonio is well on the way to becoming a major educational center with addition of the new university branch."
---
---