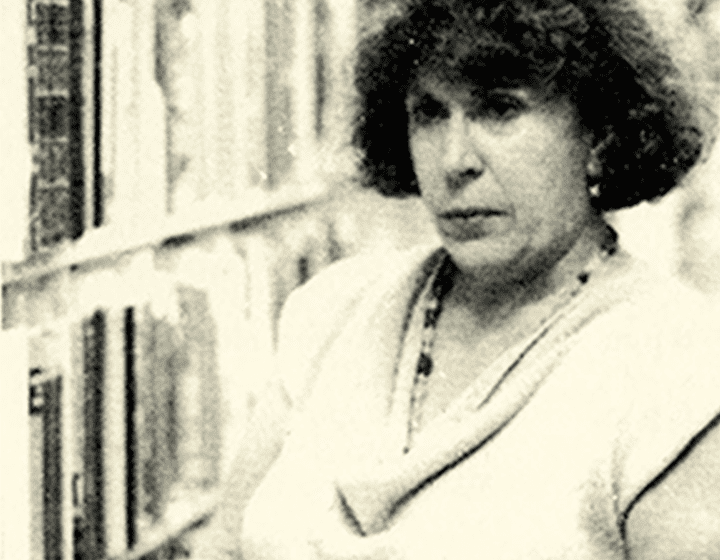 UTSA Special Collections librarian Dora Guerra works in her fourth-floor domain in the JPL in 1988.
Alive with History
Special Collections comprises thousands of volumes of rare manuscripts, photos, books, and Texana
[ This article was originally published in the UTSA newsletter The Roadrunner on September 12, 1988 ]
Dora Guerra's friends often ask her how she could like working alone—a question the Special Collections librarian found odd at first. "There's so much to get done here that I'm not even aware that I'm working alone," she says. And surrounded by the thousands of volumes of rare manuscripts, photographs, books, and bits and pieces of Texana, she has history if not coworkers to keep her company.
Guerra's domain is on the fourth floor of the John Peace Library. Half the area is taken up by traditional, book-filled library shelves, while the other half resembles a comfortable study in your grandmother's house, complete with picture window and a view.
And Guerra is not really alone in the Special Collections section. Student and faculty researchers frequently seek her help, poring over the collection's volumes for research projects. Sometimes her company comes in the form of drop-in guests carrying cartons of papers and books found in attics or garages. "They always seem to walk in when what they have in their bags is precisely what we need," she says.
Guerra recently spent three months going through a collection of papers donated to Special Collections. Before they are even brought into the Special Collections room, each piece of paper must be painstakingly cleaned by Guerra to remove the mold and other organisms that could contaminate stabilized works in the collection. "It's dirty work," she says. "I like to tell people I work with dirty books."
Among the collection's most prized treasures are the 16th, 17th and 18th century Spanish manuscripts in the Sons of the Republic of Texas Collection. Many of the documents show the language in transition from Latin to Spanish, Guerra explains.
For her, the manuscripts are particularly fascinating because she is one of only a handful of people who can actually read the intricate writing and unfamiliar words with the same ease that others read their morning newspapers. Guerra learned to read the script as a child during visits to relatives in Mexico, where a priest taught her to read Spanish from old church records.
Guerra's work in Special Collections has sparked an interest in the experiences of Hispanic pioneer women. She has been gathering information on the women who moved from Spain to Mexico and eventually to Texas, and would like to learn more about the founding mothers of San Antonio.
---