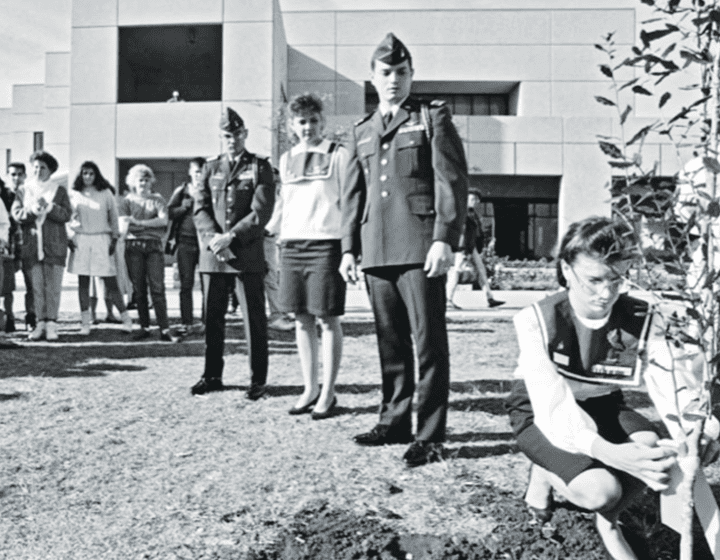 Karen Carter ties a yellow ribbon around a newly planted memorial tree in 1990.
Saving the Tree
Construction of a new building on Main Campus requires maneuvering around a memorial live oak
[ This article was originally published in Sombrilla Magazine, Spring 2008 ]
In November 1990 members of UTSA's Air Force ROTC topped off POW/MIA Awareness Week by planting a live oak tree in front of the University Center to honor POWs and MIAs who served in Vietnam.
In this archive photo Karen Carter is tying a yellow ribbon around the tree as William Coulston (ROTC corps commander), Tahnee Roubidoux (Angel Flight commander), and Gilbert Martinez (Arnold Air Society commander) look on.
Eighteen years later, the tree is still standing outside the University Center—but is in the middle of a construction zone as UTSA completes a $33 million expansion of the UC.
The bulldozers spared the ROTC tree and several others nearby; in fact, a proposed bridge linking the old and new buildings was relocated to save the tree. The new building will open this summer.
---
UPDATE
As of January 2019, the University Center has been renamed the Student Union, and the extension being built at the time the article was written is now the H-E-B Student Union building. The ROTC tree continues to stand—in fact, it now reaches beyond the height of the buildings' second floor—and a bronze plaque describes how and when the tree arrived on Main Campus.
---