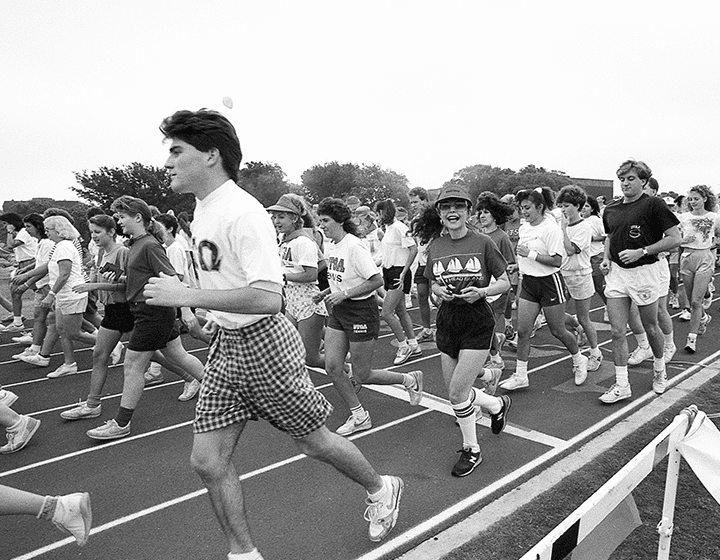 Roadrunners take to the track on the UTSA campus to raise funds for women's athletics teams.
Athletics Boosters
Roadrunner supporters from across San Antonio join walk to raise funds for women's teams
[ This article was originally published in the UTSA newsletter The Roadrunner on April 24, 1989 ]
It's the first of its kind in San Antonio. "Women helping women's athletics" is the theme of the Taco Cabana/UTSA Women's Walk for Athletics that will be held Saturday, April 29, at 10 a.m. at the track facility.
Women from all walks of life in San Antonio have joined forces to help UTSA's women's athletic scholarship fund. Team captains and their teams have gathered per-lap pledges and tax-deductible donations.
The walk itself will last only 30 minutes with a free breakfast, provided by Taco Cabana, to follow in the Convocation Center. During the breakfast, door prizes and performance awards will be given out.
The event, which is chaired by State Sen. Cyndi Krier and Lt. Gov. Bill Hobby, has already started to draw overwhelming attention. A crowd of 27 team captains attended the last Women's Walk meeting, with each hoping to bring at least 20 walkers apiece on Saturday.
---