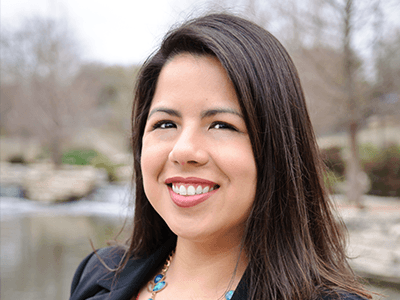 Melissa Vela-Williamson '09
Chief Communication Architect and Owner of MVW Communications
What role did UTSA play in your current professional success?
"I learned so much during my master's program at UTSA. I was part of the second cohort in the Communication master's program, so our input shaped a lot of how the program was built. Since I was already working full-time by then, I was a much more deliberate student. I knew the weight of student loans from my undergrad days and really thought strategically about which university I would attend for a master's. The decision was made in terms of financial cost, time commitment, feasibility in drive time from work and how flexible the department was when working with working students.
I chose UTSA because of the school's vast resources for students, lower cost of tuition and how approachable the department faculty and staff seemed. During my studies, we explored the broad spectrum of communication, from my planned concentration in "new media" (now known as online, social and digital media), interpersonal, small group, organizational communication and more. Earning my master's in this field has helped me be eligible to vie for jobs that required beyond a four-year education. There's a certain level of credibility that comes with earning your master's. Any differentiators you can create for yourself in a competitive field such as public relations help! Not only that, I truly made the most of my time at UTSA as a working student. To complete my degree, I chose the graduate project option versus a cumulative exam, so I could benefit both my education and industry goals. With support from UTSA and my H-E-B, my workplace at that time, I developed a best practices toolkit that not only earned me kudos (and my degree) from UTSA but helped solved a true business and community need for at-risk, Spanish-speaking customers. That toolkit also earned industry awards from the Public Relations Society of America San Antonio Chapter and from the Advertising Federation of San Antonio.
I've kept in touch with Dr. Ali Kanso El-Ghori since graduating in 2009 and he always congratulates me on my professional achievements. That still makes me proud! The Communication Department also surprised me by creating an inaugural "Distinguished Alumnus Award" in 2015 on the same night Dr. Kanso was introducing me to accept the PRSA Professional of the Year award in front of my colleagues, friends and family. I'll never forget how shocked I was and how thoughtful that was Dr. Kanso and the department!
The networking was invaluable as well. I've kept in contact with former classmates as colleagues and friends, with one hiring me as an adjunct at Northwest Vista College which led to more client work and other speaking opportunities. This journey, degree and connections are building blocks on a path that doesn't seem to end as long as I stay connected with my time at UTSA. Thank you for allowing me the opportunity to meet even more Roadrunners!"