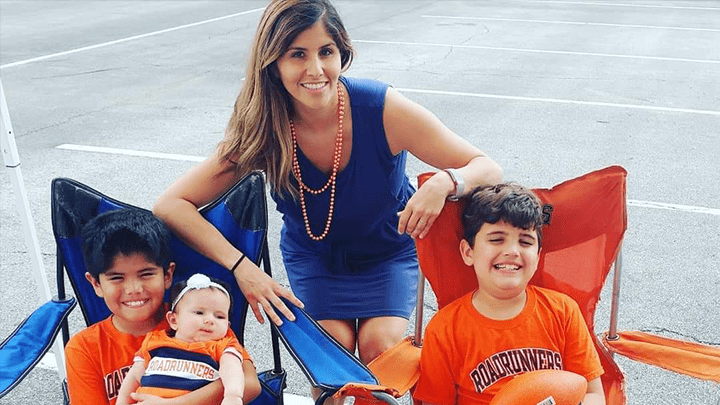 ---
"My UTSA journey began in 2011 as a first-generation student with a dream of being a science teacher. While on campus, I made incredible memories through organizations such as For the Kids and PAWS. I was the recipient of several Alumni Association scholarships and appeared in promotion videos for the scholarship in 2011 and 2012. I also made life-long friendships with several phenomenal ladies in a group we named Teacher Friends.
One of my favorite UTSA memories is attending the very first football game my first semester. My husband, who is also a UTSA alumni, and I bleed orange and blue and have produced our own future generation of Roadrunners. We love tailgating and attending UTSA games as a family.
After graduation, I taught middle school science for five years with NISD. During this time, my passion for space and NASA allowed me to attend teacher workshops at several NASA centers, including Johnson Space Center, Langley Research Center, The Jet Propulsion Lab, and Goddard Space Flight. Additionally, I have been fortunate enough to have worked as an online Instructional Assistant with the NASA Community College Aerospace Scholars program for the past two years.
Although I loved teaching, I knew I really wanted to come back home to the campus I loved so dearly. In February, I was offered a job as a Program Manager with the College of Engineering Student Success Center. I still feel like I am dreaming each day I drive to campus and walk into my office. One of my favorite parts of the day is sitting outside under the Sombrilla for lunch while I watch the next generation of UTSA graduates build memories with one another.
I absolutely love the camaraderie and school spirit not only on campus, but all over the city!"
~ Cheri LaBelle, Class of 2013
---