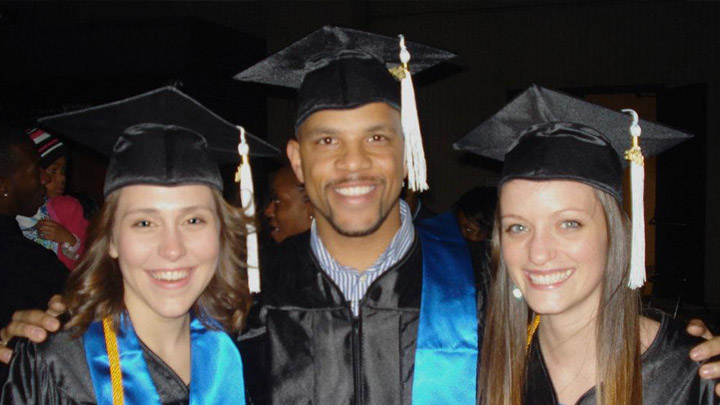 ---
When were you at UTSA and in what capacity?
I attended UTSA from August 2008 through December 2011, and I was a student receiving my bachelor's degree in Interdisciplinary Studies.
How has UTSA changed most since you were here?
The football practice fields were added and a lot of upgrades [were made] to the athletic facilities. There have been a few more buildings put up behind the softball field, and the parking garage over by the Main Building has been added since I graduated from UTSA. I'm sure there had been many more renovations done to the insides of the buildings and landscaping of the campus since 2011, and all for the better, but I love everything that's happening at UTSA.
Who was your favorite professor or mentor and how did he or she influence you?
Cynthia Fifield is the professor I most remember from my college days. She was a wonderful person and a great teacher. Never did she leave any of her students guessing on what was needed of them, and she was always ready to help if needed. She was just a great influence to me because of how she taught. She really cared! There was another professor that I had whose name I can't remember at the moment, but he was a major influence to me because he was a black male professor teaching in a college classroom. That was just something I didn't see a lot of at UTSA. Most of my professors were white women and just to see him was an inspiration for me to become a teacher.
What is your favorite UTSA tradition?
My last year, there was UTSA's first year of football, so the only thing that I could remember during that was our Annual Basketball Roadrunner Ruckus event. Hanging out in front of the Convo and all the different tents with games and other things was cool. Another thing I liked attending were the Black Fraternities and Sororities events that were held on campus of all the new members being accepted into their respective groups. Those always were fun to see.
What is your number one favorite memory from your time at UTSA?
My all-time favorite memories of my time at UTSA are all of the friends I made during my time there. Josh is, to this day, one of my most valued friends and the other ladies are and were important people that played a huge role in getting through college. My time at UTSA was some of the best times I had ever had, and I wouldn't trade them for any other.
~ Jason Nemons, Class of 2011
---