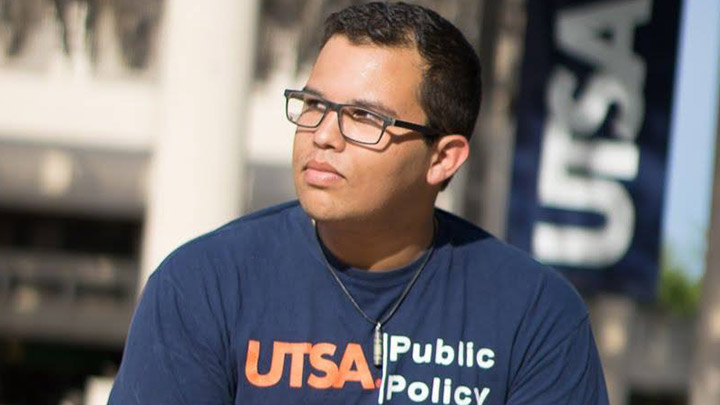 ---
"I was but a lonely freshman. I am the youngest of four boys and was raised with only my mother. I was also the first in my family to try and attempt to earn a bachelor's degree. I came from a small town in deep East Texas, where the population was a mere 36,000. You can imagine the fear and anxiety I had trying to get used to a campus of that many people.
Throughout my four years at UTSA, one memory will always stick out to me: my first day. My freshman year, I lived in the back of Chaparral Village and my first class was in the Main Building. I will always remember that feeling of getting up on my first day. At first, it was excitement, then fear, then anxiety and then hope – a hope that I was starting not just a new chapter but a new installment in this thing we call life. I was about to embark on a journey that no one in my family had ever tried before. The road before me was unpaved, uncharted and it was my job to pave it for those that were going to follow in my footsteps.
Like any college student, I plugged in my head phones and headed out the door with a bright light in my eyes, a pep in my step and a vision that I was going to set a precedent for the future generations of my family. I was alone with my thoughts and the music I chose to get me through this day. (It was Taylor Swift). That first day lasted what felt like an eternity.
Fast forward four years. Through highs and lows, from joining to student government to landing an internship in Washington, D.C. to making lasting friendships and learning that all-nighters are not for everyone, I became the first in my family to graduate from college. And if given the opportunity, I would do it all over again."
~ James Rivera, Class of 2018
---